Subaru WRX STi 2014 review
Subaru WRX STi rally legend returns in bid to recapture glory days
When things have moved on so far in the powertrain world it's a shame to see this old engine being reused in the Subaru WRX STi – it's quick but nowhere near as efficient or flexible as a more modern turbo. On the plus side, the handling is a real highlight, providing levels of grip and engagement that are quite hard to come by. It's good value but it's not our go-to choice
There was a time not too long ago when it looked like we wouldn't see another saloon-bodied Subaru WRX STi in the UK, but with enough interest and a favourable exchange rate, here it is.
Visually, it's almost unrecognisable compared with the hatchback style of the last model but a few important cues remain, like the bulging wheelarches and gaping intake in the bonnet. That huge wing was always a features of previous versions of the Subaru WRX STi until the last generation so it's nice to see it make a comeback, and it's also worth remembering that gold alloy wheels are on the options list if you want your Subaru to look like the McRae-inspired Impreza of old.
It's far from subtle, though - the huge bonnet scoop and rear wing are definitely not for the faint-hearted, but that bold styling does at least fit with the Subaru rally heritage.
Underneath the skin, however, things haven't changed quite so much. The 2.5-litre turbocharged boxer engine is the same as the one in the last generation car, producing the same 296bhp and delivered through the very same six-speed manual gearbox and four-wheel-drive system. Together they allow for a 0-62mph time of 5.2 seconds but the power delivery is the same as ever.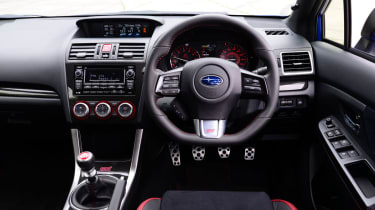 What that means is that it doesn't feel particularly quick under about 3000rpm – only once your past that point do you really get the full brunt of the acceleration. And that four-wheel-drive system ensures that even coming out of a tight bend you can floor the throttle and it'll hook up to instantly sling you out the other side.
It's in the corners that the WRX STi really shines – torque vectoring and a chassis that's 140 per cent stiffer than the old car means it's great at finding a line through a bend and resolutely sticking to it, no matter how hard you push. The hydraulic steering has got loads of weight to it and it's good at letting you know exactly how much grip is on offer, too.
But while the handling is better than ever the interior still isn't quite up to scratch. The dashboard is made of a nice soft-touch material but everything else looks cheap next to a Volkswagen Golf R. And the fuel economy is dreadful, too, boasting 27.2mpg, which will be more like 20mpg in the real world. Subaru has also stretched the wheelbase by 25mm compared with the outgoing car, so there's definitely more room in the back than there is in a Golf.
It's certainly nowhere near as rounded as the Volkswagen, but the Subaru does at least undercut the Volkswagen by around £1,000. It's packed full of standard kit like heated seats and a reversing camera, too.