Only 3 stars for the Suzuki Jimny in the latest Euro NCAP results
Average rating for Suzuki's small SUV in latest safety tests, but Audi A6 and VW Touareg achieve excellent 5-star scores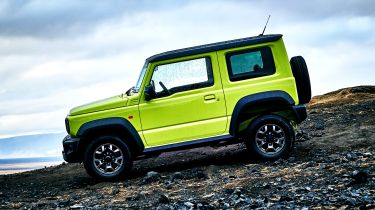 The latest batch of Euro NCAP scores have been released. The Audi A6 and Volkswagen Touareg achieved the maximum five star rating, the Ford Tourneo Connect scored four, and the lowest score in the latest batch goes to the new Suzuki Jimny, which was awarded three stars.
The Jimny was marked down in several areas, including its adult occupant protection of 73 percent. The rating was caused both by a driver's airbag which doesn't quite inflate with enough pressure to stop the head from coming into contact with the steering wheel rim, and because of the potential for deformity around the front door pillars in the front offset impact test, which contributed to a weak rating for the driver's torso. The front seats only offer marginal whiplash protection in the event of a rear impact.
Child occupant protection was good overall, with the Jimny scoring 84 percent; however marks were lost in the vulnerable road users category as a result of stiff windscreen pillars. It scored its lowest marks in the safety tech category. The 50 per cent rating was awarded due to the fact that the autonomous emergency braking system struggled to spot pedestrians in low light and was unable to detect cyclists, at all.
The Audi A6 was the strongest scorer in the most recent NCAP tests, achieving adult occupant protection of 93 percent and a vulnerable road users score of 81 percent. The Touareg slightly outscored the A6 in both the child protection and safety assist categories, making 86 and 81 percent respectively to the Audi's 85 and 76 percent.
The facelifted Ford Tourneo Connect achieved an excellent adult occupant score of 92 percent, but it didn't quite reach the full five stars because of a 65 per cent rating in the vulnerable road users category.
Find out more about the new Suzuki Jimny here...