Toyota Prius+ vs rivals
Does hybrid power work in an MPV? We test the new Toyota Prius+ against its rivals to find out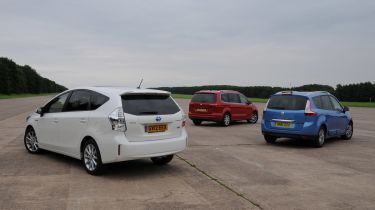 The Toyota Prius is the world's biggest-selling hybrid – and now the new Prius+ is hoping to make its mark on the MPV market.
The car is Europe's first petrol/electric seven-seater, and in entry-level T4 guise, it emits just 96g/km of CO2 (although bigger wheels mean the T Spirit car we test here offers 101g/km).
These low figures come at a price, though, with the range-topper costing nearly £30,000. Can the new Prius+ justify this? To find out, we pitch it against two very different rivals.
First up is the Renault Grand Scenic 1.5 dCi stop/start, which has similar space and emits 105g/km. Even in well equipped Dynamique TomTom trim, it's nearly £8,000 cheaper, too.
Or, for similar money to the Toyota, you can get behind the wheel of our reigning MPV of the Year – the spacious SEAT Alhambra. This vast seven-seater is the last word in people carrying practicality and costs only £23,535 in entry-level form. We test it here in £32,590 SE Lux trim with the powerful 2.0-litre TDI 170 engine.
How will the family friendly new Prius+ fare in the face of this twin-pronged attack?
Verdict
The Toyota Prius is huge hit across the globe. With a new Plug-in version and the launch of the seven-seater, this famous hybrid has grown into a family of cars, rather than a single model. And if you're a diehard Prius fan (there are plenty out there) who's always craved a little bit more space, the Prius+ will undoubtedly appeal.
However, like the standard car, it's hamstrung by its CVT automatic gearbox. It's also hobbled by an inflexible cabin layout – and when lined up against the class leaders in this test, it struggles to make a strong case for itself.
Yes, it's efficient and reasonably roomy, but it's expensive, and lacks the refinement, usability and driver appeal discerning MPV buyers expect.
Toyota Prius+ vs Renault Grand Scenic
Winner Renault Grand Scenic ★★★★
The Scenic proves you don't need to go for a hybrid to get a clean and frugal seven-seater. It's better to drive than the Toyota, more comfortable and the cabin is more practical and family friendly.
2nd Toyota Prius+ ★★★
The prius+ is well built and the seats fold easily. Five-year warranty and strong residuals also mark it out. But it's not as spacious as the Renault, and our figures suggest it won't be much more efficient.
Toyota Prius+ vs SEAT Alhambra
Winner SEAT Alhambra ★★★★★
Picking the Alhambra over the Prius+ means bigger tax and fuel bills, but it's worth it as the SEAT is such a great car. It's good to drive, with huge sliding doors and unrivalled practicality.
2nd Toyota Prius+ ★★★
You wouldn't expect this Toyota to rival the SEAT for space, but it also loses out on performance and driving dynamics. And while the Prius+ attracts far less company car tax, it's not much more efficient.