'PSA's confidence in Britain bodes well for the future'
Steve Fowler thinks Vauxhall's Ellesmere Port factory should be turned into a global plant for PSA's right-hand-drive cars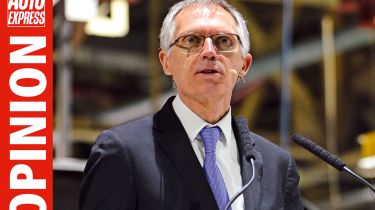 I always get a kick out of visiting factories, especially when there's good news to report. So it was great to be at the Vauxhall plant in Luton – home to vehicle manufacturing since 1905 – to hear that its future had been secured until the end of the next decade at least.
New Vauxhall/Opel owner PSA announced investment of around £100million to build the new Vivaro van in Bedfordshire, along with its Peugeot Expert and Citroen Dispatch sister models.
Alongside PSA boss Carlos Tavares was Business Secretary Greg Clarke, revealing that the UK Government has chipped in £9million to help secure the 1,400 jobs at Luton (with more possible) – money well spent in my book.
What struck me, though, is the confidence PSA has in the UK's ability to build quality vehicles efficiently, even with Brexit hanging over us.
Which prompted me to ask Tavares about the Vauxhall plant in Ellesmere Port and when we might hear good news about that. "Let's do some maths," he said. "Current Astra was launched in 2016. A seven-year model cycle takes us to 2023. Decisions in terms of product allocations need to be three years ahead of a launch, so that will be 2020."
Okay, so here's some maths for you, Mr Tavares: Ellesmere Port has a capacity of over 200,000 cars per year. It currently makes around 92,000 – all Astras, of which around a third stay in the UK. Peugeot, Citroen and DS sell around 140,000 cars here. If half of those are on the same EMP2 platform that also underpins Vauxhall's Grandland X, and that new Astra (and probably Insignia and others) will use, why not turn Ellesmere Port into a global plant for right-hand-drive PSA cars?
With PSA brands on a roll and the boss confident in Britain, that makes complete sense, doesn't it?
Do you agree with Steve? Let us know your thought's on PSA's future plans in Britain below...