Vauxhall van centres open for business
Specialist Vauxhall LCV centres open across the country for dedicated aftersales service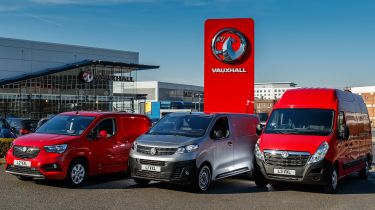 Vauxhall has announced the launch of 65 specialist Van Business Centres across the country. It means the UK company follows the lead of makers such as Ford, Renault and Volkswagen by offering dedicated commercial vehicle sales and servicing centres designed for use by professionals.
The dedicated Van Business Centres will have the full Vauxhall van range available for test drives, so buyers can get first-hand experience of the mid-sized Vivaro, Movano large van and new Combo. Sales staff will also aim to offer customer service tailored for business users, which should improve the buying experience.
• Company van tax rules explained
The van centres also aim to offer a new level of aftersales service. Vauxhall technicians will fit genuine Vauxhall parts that are covered by a 12-month warranty, and the centres will operate a UK-wide pricing policy, so there is no variation in cost between van centres. Other convenient features that are available include overnight drop-off and collection and 90-minute servicing for business users on a tight schedule. Online service booking will be offered 24 hours a day, too. And if a customer van is off the road for an extended period, courtesy vehicles will be available.
The selection process for the 65 LCV sites was quite strict, as approved locations need to be able to meet the mentioned service requirements to qualify as a van centre.
Vauxhall LCV Director Derek Wilson highlighted the importance of the new Van Business Centres. "This change demonstrates our commitment to looking after the needs of our LCV customers, by delivering a service level that matches up to our outstanding product range," he said. "This programme brings industry-leading customer experience to Vauxhall LCV customers, with comprehensive geographical coverage across the UK. Our nationwide network of van experts will deliver the highest standards of skills and expertise whilst also helping business users save time and money."
Would an electric van suit your business? Check out our list of the best electric vans on sale...