Vauxhall Astra 1.7 CDTi review
A plush cabin and sharp looks help the Vauxhall Astra 1.7 CDTi keep pace with family hatch rivals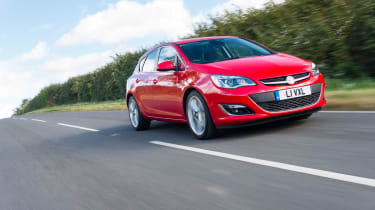 The Vauxhall Astra has consistently featured among the best-selling cars on sale in the UK.
Intended as a serious competitor to the Volkswagen Golf 1.6 TDI and Ford Focus 1.6 TDCi, the Vauxhall Astra 1.7 CDTi diesel was given a sleeker and sporty design, and a huge upgrade in cabin quality when the all-new sixth generation model was launched in 2010. However, the old Isuzu-based turbo diesel unit doesn't quite make the cut against either of its major rivals. With CO2 emissions of 119g/km and claimed fuel economy of 62.8mpg, it is nowhere near as efficient as more modern engines.
But it's the 1.7 CDTi's poor refinement that really holds it back. It clatters noisily at idle and sounds gruff and strained when extended. A reasonably muscular torque output of 280Nm helps give the Vauxhall decent performance, but it still falls short of newer and more refined rivals.
There is some good news for those looking to buy new, as Vauxhall is planning to update the Astra range with its new 1.6-litre CDTi engine, which the brand claims will return 78.5mpg and emit 94g/km of CO2. We've not tested this engine yet, but Vauxhall calls it the 'Whisper Diesel' - which indicates that it might be a bit less gruff, too.
More reviews for Astra Hatchback
Buyers have a choice of 5-door or Sports Tourer guises fitted with the 1.7 CTDi engine. But it is only available in three of the trims that Vauxhall offers: Excite, Limited Edition and the sporty SRi. All three are equipped with ESP, tyre monitoring, Steering wheel mounted audio controls, Air conditioning and cruise control as standard.
Limited Edition adds ambient lighting in doors, 19-inch alloy wheels and Sports front seats with electric lumbar adjustment, USB connection and Bluetooth. And the Sri brings lower sports suspension, multifunction trip computer and front fog lights.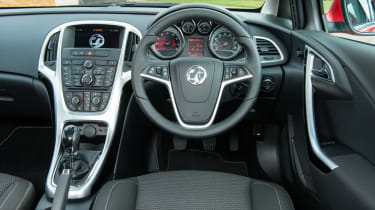 The latest Vauxhall Astra was launched in 2009, so it's starting to show its age when compared to newer, sharper looking rivals like the Ford Focus or SEAT Leon. Nevertheless, with its styling cues taken from Vauxhall's Insignia, the Astra still looks handsome and well proportioned. Better still, a mid-life refresh in 2013 subtly updated the looks – although you'll have to look very hard to spot the differences over the old car.
The cabin has taken a step forward and has an upmarket feel, however, the interior is no match for that found in the Volkswagen Golf. The chrome-rimmed dials are neat, but the red dot-matrix readout that's set between them looks a little dated when compared to the colour screens found in a Kia. And the sloping button-heavy centre console can be distracting.
Vauxhall fits the Astra 1.7 CDTi with a long-throw six-speed manual gearbox, which can feel notchy. And while it can't match the Ford Focus for fun as a result of its lifeless steering, on twisty roads the Astra is grippy and composed. The levels of refinement and comfort found in the Vauxhall Astra 1.7CTDi are impressive, and it soaks up poor road surfaces with ease. It's just a shame that this refinement is undermined by the agricultural sounding engine.
Buyers of the SRi model can opt for the optional Flexiride system that tweaks the dampers, steering and throttle for sportier responses.
The Astra is a reliable and sturdy family car. It's safe too having achieved a five-star Euro NCAP rating. Vauxhall provides six airbags and electronic stability control on every Astra.
Five adults can easily fit inside, and will benefit from a generous amount of head and legroom. In addition to the Astra's spacious cabin, Vauxhall has laid it out in a thoughtful way, including plenty of neat cubbyholes and storage boxes for all the family's odds and ends, however, the door bins could do with being a bit bigger.
The Vauxhall Astra 1.7 CDTi has a well-shaped 351-litre load bay, and when folded, the split-fold rear bench results in 1,216 litres of space. An optional Flex Floor system also allows owners to create a completely flat load area with a hidden compartment below to store valuables.
While its sturdy build quality suggests the Astra 1.7 CDTi should be a reliable choice, it dropped way down the order of our 2014 Driver Power survey by 21 places to rank 124th.
However, Vauxhall does throws in a unique warranty that lasts the lifetime (or 100,000 miles) of the car. But this applies only to the Astra's first owner – sell the car within the first three years, and the guarantee reverts to the standard three years and 60,000 miles cover.