Vauxhall Corsa Limited Edition Review
Packed with loads of standard kit, the Vauxhall Corsa Limited Edition plays the value for money card well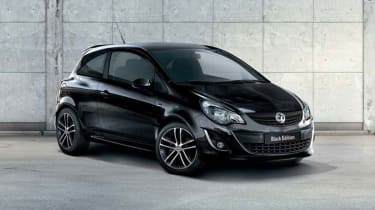 The Vauxhall Corsa Limited Edition is a good looking supermini that offers heaps of standard kit and good value for money. However, due to its ageing chassis, it can't match the Ford Fiesta for driving fun.
Vauxhall's Corsa Limited Edition was introduced alongside Astra and Insignia models to celebrate its 110th year of building cars in the UK.
The Vauxhall Corsa Limited Edition is based on the mid-range Design model, and starts at the price of £14,650. Available in three and five-door guise with a petrol or diesel engine, the Limited Edition spec Vauxhall Corsa is fitted with VXR-style 17-inch black twin-spoke alloys, sports pedals, front fog lights and a colour co-ordinated sporty body kit.
In addition to the standard Design trim, Vauxhall has fitted the Corsa Limited Edition with air-conditioning and cruise control. It also offers the car in a choice of striking red, white, black or yellow exterior colours that all get Carbon Flash roof and door mirror trimmings. To continue the sporty feel of its Ford Fiesta rivalling supermini, Vauxhall gives the Corsa Limited Edition red, yellow or silver seat stitching, as well as red, yellow or chrome air-ring vents.
More reviews for Hatchback
Unfortunately, Vauxhall hasn't carried its sporting aspirations over to the choice of engines offered in the Corsa Limited Edition. Vauxhall gives the Corsa Limited Edition its compact 1.2-litre petrol engine that promises a combined cycle of of 51.4mpg and 129g/km CO2 emissions but limited performance. As an option, buyers can opt to fit it with Vauxhall's stop/start 'EcoFlex' system and an automatic gearbox.
Buyers preferring a larger petrol engine for their Corsa Limited Edition can opt for a 1.4-litre unit, which offers the same emissions as the 1.2 and can also be specced with an automatic gearbox. Diesel fans get only one choice of engine - a 1.3 CDTi ecoFlex - but can choose whether they want it to come with either 74bhp or 94bhp.
The 74bhp diesel Vauxhall Corsa Limited Edition returns a combined economy of 67.3mpg, and CO2 emissions 100g/km. Cars fitted with the 94bhp unit get start/stop technology which lowers emissions to 88g/km of CO2 and Vauxhall says it has a combined cycle of 85.6mpg.
Unfortunately for the Vauxhall Corsa Limited Edition, both petrol engines lack straight-line speed, while the diesel feels low in power and is unrefined. The five-speed manual gearbox is on the notchy side too.
The chunky leather steering wheel that Vauxhall gives the Corsa Limited Edition feels good to hold, and the car has a good driving position. However, the driving experience is typical Corsa, and it can't match the Ford Fiesta for thrills despite the Limited Edition being fitted with the same stiffer sports suspension found in other warm hatch Corsas.
While there's a lot of wind and road noise on the motorway, the Corsa behaves as well around town; it's refined at idle and the stop/start works very well.
Vauxhall gives the Corsa Limited Edition a lifetime 100,000-mile warranty as part of the deal, but like all other Corsas, depreciation is a killer. The Volkswagen Polo offers far better resale values, as the Corsa can't even match mainstream rivals such as the Ford Fiesta in this area.