Vauxhall Corsa SXi 1.2 review
Vauxhall's Corsa SXi 1.2 offers a sporty feel and plenty of kit but rivals are starting to make it feel old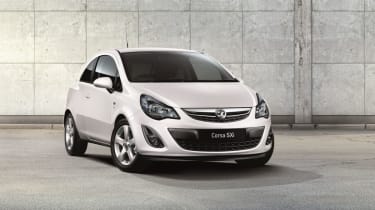 No amount of standard kit can stop the Vauxhall Corsa SXi 1.2 from feeling its age. Buyers should go for a Ford Fiesta which is more fun, or wait for the next generation which will arrive later in 2014.
Sitting below the SRi model, the Vauxhall Corsa SXi (not pictured) trim level offers some of that car's sporty styling at a more affordable price. The SXi Corsas are available as either three-door or five-door hatchbacks with a choice of petrol or diesel engines, the cheapest of which is the 1.2-litre unit we feature here.
While the most powerful petrol engine in the Vauxhall Corsa SXi range is a 98bhp 1.4-litre unit and the 1.3 CDTi diesel is the most economical, the 83bhp 1.2-litre engine is the cheapest. It's available on either three or five-door variants of Vauxhall's supermini.
Vauxhall also offers buyers the opportunity to spec the 1.2-litre unit with its EcoFlex stop-start tech. This sees fuel economy improve from 51.4mpg to 56.4mpg, and CO2 emissions fall from 129g/km to 117g/km.
Despite returning respectable economy figures, the Vauxhall Corsa 1.2 SXi isn't exactly cheap for a supermini thanks to an asking price of around £13,500. However, hailing from the upper end of the Vauxhall trim level hierachy, it gets plenty of standard equipment.
More reviews for Hatchback
The standard kit on the 1.2-litre SXi includes 16-inch alloy wheels, cruise control, smoky head and tail-lights, front fog lights, tinted windows and a chromed exhaust. What's more, EcoFlex models get stop-start tech and air-conditioning is also available.
Like the more fashionable Vauxhall Adam, which shares its platform, the Corsa's interior is well screwed together and the sporty leather steering wheel is great to hold. Other interior features include 60/40 folding rear seats and a multi-function trip computer.
Impressively, all of this kit comes bundled on top of features such as steering wheel-mounted audio controls, heated door mirrors, an MP3 ready radio and daytime running lights - all of which are found on lower-trim models.
While it's well laid out, there is a downside to the Vauxhall Corsa SXi's well appointed cabin - it feels slightly old fashioned compared to the edgy interior in the Ford Fiesta or the classy Volkswagen Polo.
That's to be expected though, as while the Fiesta and Polo are all-new, the current Corsa - despite various facelifts and tweaks - remains largely unchanged under the skin since it was launched in 2006.
Like all other cars in the Vauxhall Corsa range - the SXi, despite its stiffer suspension lifted from the SRi - lacks slightly in terms of driving thrills. It's more of a point-to-point A-to-B runabout than a lithe and nimble supermini like the Fiesta. However, it's decent around town thanks to a decent driving position, light controls and small dimensions.
The Corsa is also quite practical, thanks to a low loading tailgate lip and an impressive 285-litres of boot space with the rear bench in place. Fold it flat, and on the five-door variant, it increases to 1,100-litres. With the three-door, this is marginally reduced to 1,050-litres.