Vauxhall Mokka vs rivals
The Vauxhall Mokka takes on its compact crossover rivals, the Nissan Juke and MINI Countryman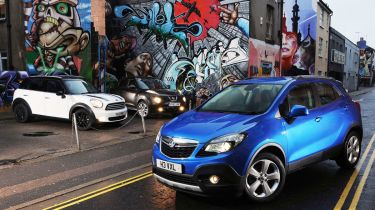 Urban chic is at the heart of Vauxhall's new model onslaught, with the fun-sized Mokka crossover arriving just months ahead of the stylish Adam city car. Both will break new ground for the brand and face tough competition from well established rivals. However, Vauxhall has such confidence in the new Mokka that it believes it will soon become its third best-selling product.
With chunky off-road-inspired looks and either two or four-wheel drive, the Mokka has all the right ingredients to make an impact in this fashionable sector.
We're testing the affordable 1.6-litre petrol model. Up against it are two cars famous for breaking the mould: the Nissan Juke and the MINI Countryman. The Nissan sticks closely to its supermini roots, but in the Shiro trim tested it is laden with kit, while the big MINI brings premium gloss.
Despite their different backgrounds, all these cars are priced within £100 of each other – could the final result be as close?
Verdict
Crossovers have such a broad appeal now that car makers are pushing the boundaries to ensure their new model is the one that stands out.
With the Mokka, Vauxhall has focused more on offering SUV-like cabin space and practicality than lots of gadgets or pin-sharp handling poise.
As a result, the new car falls between two stools. It has smart looks and a more flexible interior than most rivals, but it fails to stamp its authority on this sector and so finishes in second behind the higher-quality MINI Countryman.
Had the Mokka been a diesel, this result might have been different. But the asthmatic 1.6-litre petrol engine is inefficient and slow.
Tweaks to the ride and handling have made the Vauxhall more comfortable and composed than the Juke, though. Despite its excellent value for money and generous standard equipment, the Nissan brings up the rear in this test.