New, British-built Vauxhall Vivaro van on sale this summer
First picture revealed of the all-new 2014 Vauxhall Vivaro van that's being built in Luton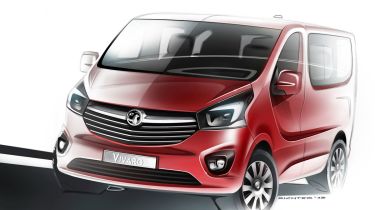 Vauxhall is setting out to solve the panel van problems of British business with its all-new Vivaro van. The new 2014 van replaces the old Vivaro, which has been in service on UK roads for 12 years.
It's testament to the sharp design of the original Vivaro that it still looked the part after such a long innings but it was starting to show the strain beneath the skin and a new Vivaro has been eagerly awaited for some time.
• Latest van news and reviews on Auto Express
Now the new Vivaro on its way, with a fresh look, new engines and a complete technological overhaul. Like its forebear, this Vivaro is a mid-sized panel van that slots into the Vauxhall van range between the Combo compact van and the Movano full-sized panel van. That means it counts the likes of Volkswagen's Transporter, Mercedes' Vito and Citroen's Dispatch as rivals.
Vauxhall has honed the Vivaro's looks with a bold front grille dominating the nose. The overall look mirrors many of the styling themes seen on Vauxhall's latest passenger cars with the angular lights and sharp 'wing' cutaways carved into the flanks.
Vauxhall: number one UK van manufacturer
Vauxhall is the number one van manufacturer in the UK, building 44,000 units in 2013 at its Luton factory. The current Vivaro has continued to perform strongly from a sales perspective with 18,180 units sold in the UK last year, a 34% year-on-year increase. No wonder hopes are high for the new Vivaro, which is already in production.
The new Vivaro van has necessitated a huge programme of investment by Vauxhall with 95 million euros spent on plant changes and 112 million on supplier tooling upgrades – 34 million euros of which was spent in the UK.
Over 40% of the parts for the new Vauxhall Vivaro will be sourced locally, with the plant and associated agencies employing over 1,200 people in the Luton area.  
Stay tuned to Auto Express for more spec information and pics of the new Vauxhall Vivaro as details are released.