Volkswagen and Ford team up to build vans and boost competitiveness
VW and Ford announce a strategic alliance that will foster "several joint projects" including one to develop commercial vehicles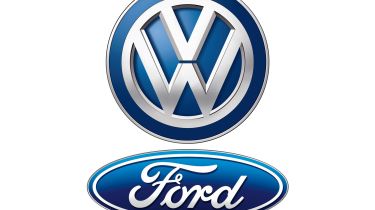 Two of the car industry's biggest guns are manoeuvring to team up in a 'strategic alliance' designed to boost the competitiveness of both companies and improve their offering to customers around the world. Ford and Volkswagen have signed a Memorandum of Understanding that is intended to mark the start of several joint ventures, but the only one mentioned specifically is concerned with developing new commercial vehicles.
In a statement released by both companies it is stressed that any strategic alliance would not involve the firms taking any ownership stake in each other. Instead, it is likely to take the form of technology sharing and a sharing of the development costs around major projects.
In the statement, Jim Farley, Ford's president of global markets, said. "Ford is committed to improving our fitness as a business and leveraging adaptive business models – which include working with partners to improve our effectiveness and efficiency.
"This potential alliance with the Volkswagen Group is another example of how we can become more fit as a business, while creating a winning global product portfolio and extending our capabilities. We look forward to exploring with the Volkswagen team in the days ahead how we might work together to better serve the evolving needs of commercial vehicle customers – and much more."
Dr. Thomas Sedran, head of Volkswagen Group strategy said: "Markets and customer demand are changing at an incredible speed. Both companies have strong and complementary positions in different commercial vehicle segments already. To adapt to the challenging environment, it is of utmost importance to gain flexibility through alliances. This is a core element of our Volkswagen Group Strategy 2025. The potential industrial cooperation with Ford is seen as an opportunity to improve competitiveness of both companies globally."
Ford and Volkswagen have worked together in the past. The two brands joined forces in the 90s, collaborating on a joint venture that yielded the Ford Galaxy, Volkswagen Sharan and SEAT Alhambra 7-seat MPVs that were built on a shared platform at the AutoEuropa plant in Palmela, Portugal.
In today's market, the obvious attraction between the two is their respective strength in two of the world's key car markets. Ford remains a huge force in the US but but is less strong in Europe, outside of the UK, and lacks a partner for developing European car platforms. Volkswagen, on the other hand, can contrast its European market prominence with some much publicised problems in the US, not least around the Dieselgate emissions scandal.
Beyond that, the challenges around the cost of developing the next generation of electric and hybrid car powertrains, as well as the increasingly advanced infotainment and autonomous driving technologies that will be required to keep pace, may make the sharing of expertise and resources seem more attractive in the respective boardrooms.
Looking at the one area of cooperation outlined specifically in the Ford/VW statement, the commercial vehicle sector is rife with platform sharing but Ford currently goes it alone with its Transit range and Volkswagen recently parted company with its large panel van partner Mercedes-Benz in bringing the new Crafter to market. The two giant companies would seem a good fit together in this space.
What do you think of Ford and VW's move to work together? Let us know in the comments section below…