All-electric Volkswagen ID. R range on the way with new battery tech
Volkswagen's R division is primed to morph into an EV sub-brand, but a high-performance ID. 3 R isn't on the cards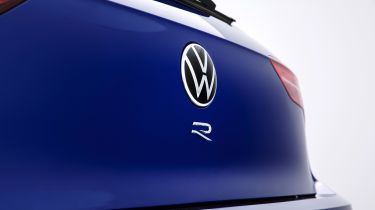 Volkswagen's charge towards an all-electric future is already underway with its mainstream cars, but the firm has now revealed plans for a range of high-performance EVs that wear the R moniker. As with the current Golf R, T-Roc R and Arteon R, the future of Volkswagen's sub-brand lies with sharper, more potent variants of the firm's core models. 
Like the current R line-up, these most hardcore variants will be developed on the track, and Volkswagen will draw from its record-breaking ID.R hill climb racer to engineer the new cars. 
By 2030 the R range will be fully electric, but don't expect to see hotter variants of current MEB-based models like the ID. 3. Speaking exclusively to Auto Express, Volkswagen R boss Reinhold Ivenz said: "We discussed several concepts in the MEB world and we are not confident with what we can do with the battery at the moment. If we want a specific MEB R model it would need its own battery, which is so expensive so we are not planning such a car at the moment".
The MEB platform that underpins Volkswagen's EV line-up currently offers up to 295bhp in the ID.4 and ID.5 GTX, but future electric R models will use next-generation battery and motor technology to push well past this figure. "The next generation electric platform has much more horsepower", said Ivenz. "The MEB is not so powerful, but we don't think in horsepower, we think in acceleration. If we want for example, 0-62mph in 4.0 seconds, we will discuss how much power we need to achieve this". To achieve such acceleration in a relatively heavy EV, electric R models could arrive with outputs of around 500bhp.
Although the ID. 3 would appear to be an ideal candidate for an R-badged model, given the success of the similarly positioned petrol-powered Golf R, there are currently no plans to produce one. According to Ivenz, "the ID. 4 is a better concept because it's all-wheel drive, so we have a good base to make an R model. But things change rapidly at the moment, so we will see. There is greater volume for the ID. 4, and in the ID. world, the R models are better suited to ID. 4, ID. 5 or ID. 6".
Given that these electric R models will use revised powertrain technology drawn from the ID.R project, we don't expect to see them in showrooms for at least another two years. Nevertheless, Ivenz revealed that a Volkswagen R show car is in the works to provide a taste of what's to come: "In 2024, we will show a concept car which is a preview of what we will do with electric R models".
Now check out our list of the best electric cars you can buy now...