VW boss 'optimistic' of US recovery under Donald Trump presidency
With Donald Trump poised to become US president, VW bosses are confident that their US recovery plans will stay on track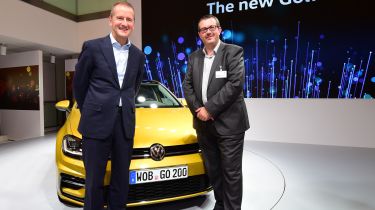 Volkswagen boss Herbert Diess says he remains "optimistic" about the firm's prospects for recovery in a United States market shaken up by the surprise presidential election victory for Donald Trump.
VW employs several thousand staff at facilities in the United States - although its fortunes in that country's car market have suffered badly in the 14 months since the Dieselgate scandal. It also has manufacturing plants in Mexico - a country whose labour costs were attacked by Trump during the often-bitter election campaign against Hillary Clinton. Bringing manufacturing jobs outsourced to countries like Mexico and China back to the US was a common theme of Trump's pre-election rhetoric.
• Latest on the VW emissions scandal
Speaking at the launch of the facelifted Golf in VW's Wolfsburg headquarters, the brand's boss Herbert Diess said he had been "surprised" at the result but that he remains positive. "I had another prediction, so it was not the result I was expecting when I went to bed," he said. "It was a bit of a surprise to wake up and see what has happened.
"The first comments from Mr Trump have two potential interpretations, but the majority of people seem to be saying that his plans might boost the American economy. That would be favourable for us, because we are restarting in the United States. So I see it optimistically."
VW recently launched a large SUV called the Atlas that has been designed and costed specifically for American customers. It will build the new vehicle alongside other US-specific models at its plant in Chattanooga.
What do you think Trump will do for the US car industry once he takes up office in the White House? Let us know in the comments...