VW Caravelle gets 2.0-litre TSI power while Caddy goes petrol too
The sting of dieselgate strikes as an assortment of petrol engines make their way to the Caddy and Caravelle range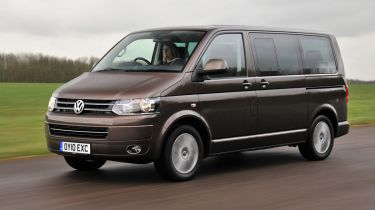 Volkswagen Commercial Vehicles has announced it will be bringing a range of petrol engines to its commercial vehicle range in 2016. The Volkswagen Caddy panel van and Caddy Life people carrier, along with the Volkswagen Caravelle MPV, will be offered with petrol engine options ranging from 1.2-litre TSI to a version of the 2.0-litre TSI that's found in the Golf GTI hot hatch.
The Caddy and Caddy Life will be available with three petrol engines - a 1.2-litre 83bhp mated to a 5-speed manual gearbox, a 1.0-litre turbocharged 101bhp engine from the Golf Bluemotion, and a 1.4-litre engine with 123bhp, which has a six-speed manual or seven-speed DSG automatic.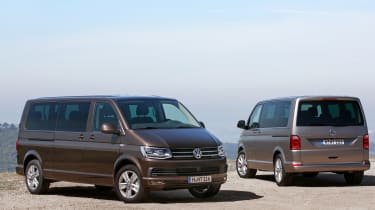 The Caravelle is offered with a 2.0-litre engine producing 148bhp or 201bhp - the same engine used in the Golf GTI. The lower-powered engine comes with a six-speed manual, while the top engine is exclusively available with a seven-speed DSG auto. These engines are only available on the short-wheelbase Caravelle SE, and not the Transporter panel van - yet.
The new engines may be a response to the 'dieselgate' scandal, where software in VW models was found to be artificially lowering the NOx emissions in official tests. Many potential buyers may have been put off the idea of diesel as a result, and the new petrol additions to Volkswagen's range could offer an alternative. The commercial vehicle market is dominated by diesels but advancements in turbocharged petrol engines may see this shift.
• Read all the info on the Volkswagen emissions scandal here
The new engines will emit from 123-137g/km of CO2 in the Caddy, and 206-210g/km in the Caravelle. Fuel consumption ranges from 47.1mpg to 53.3mpg in the Caddy and 30.7mpg-31.4mpg in the Caravelle.
The petrol Caddy range starts from £14,475 excluding VAT, while the petrol Caravelle's come in from £30,230 excluding VAT.
Would you buy a petrol van? Let us know in the comments below...