Volkswagen reveals two Golf concepts for Worthersee 2018
New Golf GTI Next Level and Golf TGI GMOTION concepts the creation of VW apprentices for Worthersee festival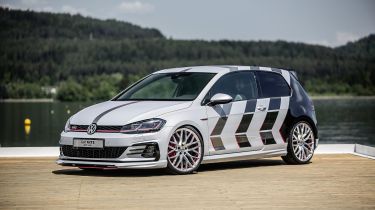 Volkswagen has let a group of its apprentices loose on a pair of Golfs, and their creative efforts have spawned the GTI Next Level and the TGI GMOTION. The pair of concepts are set to feature at the 37th Worthersee festival in Austria.
The Next Level takes the standard GTI's 2.0-litre engine and adds forged pistons, an uprated turbo, a beefier intercooler and upgrades to the intake and exhaust systems.
• Golf GTI TCR to make 2018 Worthersee debut
The changes result in a total output of 405bhp and 511Nm. It's not just the engine that's got significantly more power either - the rear seats have been ditched for a 2,480W sound system and a huge LED TV.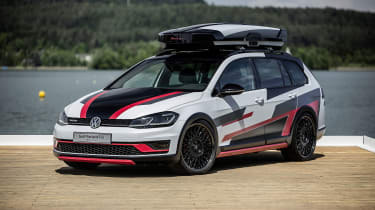 The styling changes are just as extreme. A white and black colour scheme is highlighted with hand-painted chevrons along the sides, and more aggressive bumpers and side skirts are fitted. And if you think the alloy wheels look familiar, you'd be right - they're the same 20-inch items fitted to the Audi R8.
Meanwhile, the Golf TGI GMOTION concept is based on the Golf Estate, and gains off-road-inspired tweaks. It features body cladding taken from the Golf Alltrack, custom underfloor protection, a 40mm suspension lift and a roof box. An all-wheel drive conversion is teamed up with a 129bhp 1.5-litre turbocharged unit fueled by natural gas.
Check out the best cars that the Worthersee festival had to offer in 2017…