Volkswagen Golf GTI Cabriolet vs rivals
We test the VW Golf GTI Cabriolet against its MINI and Audi rivals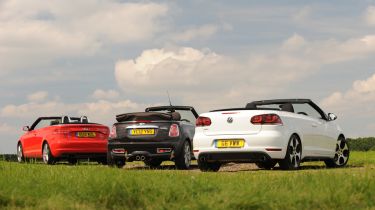 Is it time to open up to a different type of hot hatch? The new VW Golf GTI Cabriolet is the first soft-top Golf to wear the GTI badge since the legendary MkI, and it promises to use its hot hatch DNA to deliver wind-in-the-hair thrills and driver fun.
With the same engine, lowered suspension, sporty exterior detailing and classy cabin as the GTI hatch, it sits at the top of the VW Golf Cabriolet range. It isn't cheap – our car, with the DSG dual-clutch box, is more than £30,000. But is it good enough to put a pair of attractive rivals in the shade?
The MINI Cooper S Convertible delivers the performance and handling to match the Golf and, even in generously equipped Highgate trim, it's quite a bit cheaper.
Still, when it comes to classy four-seat soft-tops, Audi's A3 Cabriolet takes some beating. It shares its underpinnings and powered folding roof with the Golf, and it's available with a 2.0-litre TFSI engine. But we test the 1.8 in S line trim, which beats the VW on price. Can it stop the GTI breezing to victory?
Verdict
One of the Golf GTI's strengths is its ability to multi-task – it's a corner-hugging hot hatch one minute and a comfortable long-distance companion the next. Now, the drop-top version adds a new string to the VW's bow. It's been strengthened enough to maintain an engaging driving experience, while a quality hood and a decent ride make it refined and comfortable.
The Golf Cabriolet is desirable, fast and great to drive – a combination that seals its victory. The cheaper MINI runs it close. It's just as fast, great fun in corners and oozes character. But it's not as usable as the GTI, with a firm ride, cramped interior and noisy exhaust.
That leaves the Audi third. It's not as desirable as the GTI and isn't as much fun to drive as the MINI. You get more performance from the more expensive 2.0-litre version, but a dated interior and lack of driver involvement would still put the A3 in last place in this test.