Volkswagen Jetta 2.0 TDI - £20,000 - £25,000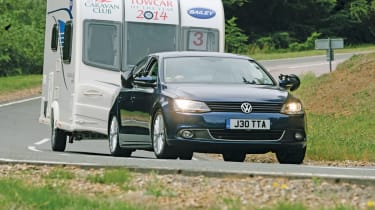 Our toughest category had a total of 10 hopefuls vying for victory. Yet for the third year, the Volkswagen Jetta 2.0 TDI Sport takes the spoils in tahe sub-£25,000 class.
Hitched to the Bailey Pegasus GT65 Genoa, the saloon put on an assured display. The punchy 2.0-litre diesel engine is a real highlight, and had no problem in hauling the hefty caravan around the two-mile bowl, quickly taking the car to well beyond the legal speed limit.
Better still, the VW was stable on the move, shrugging off some particularly nasty crosswinds. Yet it really came into its own on the twisty hill route, with our judges praising its supple ride and composure.
Push the Jetta into a corner and it breezes round effortlessly, with loads of grip and great body control. Only the DSG gearbox came in for criticism, as it was occasionally flustered by the steeper inclines – although it coped effortlessly with our challenging hill starts.
Once unhitched from the caravan, the Jetta is a practical family car for everyday use. As you'd expect from VW, there's an upmarket cabin with supportive seats and plenty of handy storage, while the 510-litre boot rivals those in cars from the class above. There's plenty of standard equipment as well.
Our Sport-spec test model came with cruise control, Bluetooth, USB, iPod connection and climate control. Add the promise of 53.3mpg economy, and it's no wonder the Jetta stands on top of the podium for a third year in a row.