Volkswagen Passat Estate 2.0 BiTDI 4Motion review
We've already been impressed by the new Volkswagen Passat saloon, so what's it like in estate form?
Surprise, surpise: The new VW Passat Estate feels like any other modern Volkswagen from behind the wheel, but that's a serious compliment, not a put-down. There's a useful extra dose of style compared to its drab predecessor, the huge boot will swallow anything a family can throw at it and it's a fine car to drive thanks to improved refinement levels and better handling. It will be a close battle with the new Mondeo, but for the sweet spot of the range we'd look further down the price list than this BiTDI model.
We Brits love estates – and in particular the Volkswagen Passat. Its blend of classy, inoffensive looks and built-to-last interiors all add up to a desirable package. In fact, VW shifted nearly 9,500 Passat Estates in this country last year alone, and the UK takes more Estates than most European countries – second only to Germany.
Volkswagen's new eighth-generation Passat saloon has already impressed us. Its strong package of keen handling and high levels of refinement should give the new Ford Mondeo a hard time. But can the new Estate version still deliver the goods and, more importantly, continue the car's UK success story?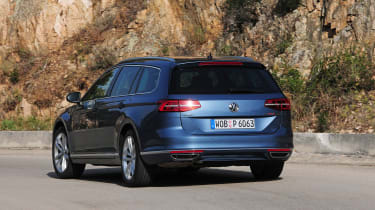 While the new sharper design looks longer and wider than the previous generation car, the new Passat Estate is actually 2mm shorter. A longer wheelbase adds up to increased interior space and there is now an extra 47 litres in the boot making total luggage space 650 litres with the rear seats up and 1,750 with them down – 120-litres more than the Mondeo Estate.
You can't criticise Volkswagen on not giving buyers a wide selection to choose from, either. Pop into your nearest VW showroom and you'll have the choice of 24 versions of the Estate – from the £23,745 1.6 TDI 'S' right up to the £37,000 2.0 BiTDI 4MOTION DSG R Line. And it's the latter we had a chance to sample, albeit in GT rather than range-topping R Line trim.
Under the bonnet is an all-new 2.0-litre, twin-turbo diesel producing 237bhp and a whopping 500Nm of torque. It's good for 149mph and will complete the 0-62mph dash in 6.3 seconds, while combined fuel consumption is over 50mpg and it emits under 140g/km of CO2. Punch is the name of the game here – in-gear acceleration is seriously impressive and while cruising the engine just hums away in the background. It's only when you plant the throttle and let the DSG kick down a couple of cogs that the engine becomes more audible, but it's never what you'd call gruff.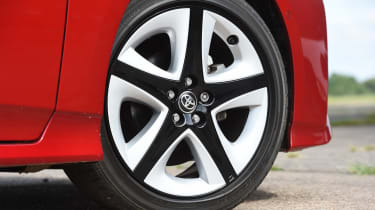 On the road the Passat Estate is an enjoyable car to drive. We'd stop short of saying it's fun, but the slightly woolly handling of the old model has been replaced with a chassis that delivers engagement and driver satisfaction. That's thanks to this new eighth-generation car being based on the VW Group's much-used MQB platform – the same that underpins the Golf. It's composed and refined, and the steering has good feel and sharp reactions when you turn in.
The BiTDi can only be ordered in GT or R-Line trims, and coupled with four-wheel-drive in the UK so there's masses of grip, even when the weather turns, but you'll pay for the privilege – our test car started at £36,040, just £2,565 less than a BMW 330d xDrive M Sport.
Inside it's a smart place to be with posh-looking wood trims and quality plastics. VW has tried to inject some flair into the design and has done so with a full-width air vent that sweeps across the top of the dashboard, and a clever 12.3-inch Audi TT-style instrument binnacle that shows digital dials and navigation maps. Called Active Info Display, it'll be a £750 option on Passats once VW makes it available for right-hand-drive cars next year.