Ford Mondeo 2014 review
Three years after we first clapped eyes on it, can the tech-fest new Ford Mondeo still cut it as it finally hits the road?
The new Ford Mondeo has been worth the wait. It is a far more mature and refined car than its predecessor – it feels modern, yet reassuringly familiar. In growing up, the Mondeo has lost a good deal of its driver's car character – it's no longer the sharpest steer in the class. However, the payoffs in manners make the sacrifice easy to swallow.
A brand new Ford Mondeo is always a massively important car for the brand – and Britain's families and fleet managers – but this one has to work harder than any Mondeo before it.
Not only must it contend with the rise of premium German brands squeezing into its territory and the onset of trendy new crossovers, it's also been a long time coming. We first saw its sleek, smarter new shape at the Detroit Motor Show in January 2012, when it was revealed as the US-market Fusion, but factory closures brought about by the recession mean Ford's only just unlocked the capacity to get the Valencia plant in Spain pumping out European-spec cars.
In truth, plenty about the European Mondeo is new compared to the US-spec Fusion. We get two versions capable of sub-100g/km CO2 emissions, and our own electric power-steering tune, new suspension settings, a fresh dashboard design and a plethora of exclusive, optional safety kit. Plus, pedestrian detection and object detection with autonomous braking throughout the speed range, rather than just at town speeds, have all been added to Europe's Mondeo.
Inside, there's another bespoke change as part of a cabin that's plusher and much improved over the old Mondeo's. All the fake metal silver trim and heavy-handed chrome has gone, and in its place is a much more sober design. While it might be a touch Germanic, that's a recipe for sales success that even the most ardent critic of the VW Group can't dismiss.
The European version uses physical buttons for its climate control interface, instead of the Fusion's touch-sensitive panel. Ford says this is due to customer feedback – essentially meaning that the techy set-up hasn't gone down well in the US, so Europeans get a better cabin straight away. Having tried touch-sensitive button panels in the Vauxhall Ampera and found them very difficult to operate on the move, Ford's no doubt expensive decision to change the centre console is a welcome one.
If you like touch-sensitive controls, you'll be satisfied with Ford's Sync 2 interface, which is featured in all new Mondeos. It's one of the more easy- to-use infotainment touchscreens, and miles better than any other Ford effort to date. It's supplemented by tailored screens in the instrument cluster that are controlled from the steering wheel buttons. The vast array of information they're capable of flicking through seems baffling at first, but quickly becomes a very handy quick-reference feature.
On the move in the new Mondeo, the first thing that grabs you – and continues to impress – is just how quiet the car is. A lot of that is to do with the shape – this is no longer a three-box saloon, but a far sleeker machine with an almost coupé-like roofline. It's 10 per cent more slippery than the old car, thanks in part to active grille shutters behind that handsome nose, which mean the car isn't just quieter, but its new engine should get through less fuel, too.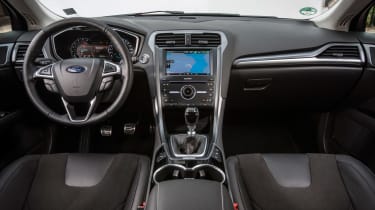 The swooping roofline hasn't cannibalised rear headroom, either, as the Mondeo will seat four regular-sized adults with ease. It's a very relaxing car to travel in, then, with the three-way adjustable suspension ironing out bumps easily.
Our first impression of the Mondeo was in a 178bhp 2.0-litre TDCi, which was quiet enough to worry a BMW 320d or Mercedes C220. Its 115g/km figure isn't shabby, but the new VW Passat 2.0 TDI 190 beats it with another 10bhp and a 107g/km score. A lesser-powered 1.6-litre Mondeo diesel will arrive in 2015, and will be the bigger seller thanks to a fleet-friendly 94g/km and potential for 78.5mpg. Other interesting variants to look forward to include a 1.0-litre 123bhp petrol EcoBoost three-cylinder and a 240bhp high-performance model (albeit without an ST badge) . A four-door, 99g/km petrol-electric hybrid is also available, with a 1.5-litre EcoBoost petrol four-cylinder being the petrol's range staple.
Although the 2.0-litre diesel isn't raucous, it doesn't really feel like it boasts 178bhp, no matter how quickly you shift through the long-throw six-speed manual gearbox. And that feeling of being short-changed returns with the steering, which is very light, over-assisted, quick, and doesn't offer the feedback we're used to in Mondeos of old. In making the car feel so unruffled and assured, Ford has bled out its trademark handling panache.
It's a thoroughly futureproof business decision, you'd have to say, but not one that helps with desirability – and that's a key point when you consider the badges and brand values this greener, smarter, much more mature Mondeo has to fight. It's undoubtedly a more accomplished, polished car, but not the handling benchmark it once was. A Mazda 6 is sharper from behind the wheel, for example, but if the last word in driving dynamics isn't the major concern, the Blue Oval's car makes a great case for itself. Roll on the VW Passat showdown.