VW Polo R-Line vs MiTo
We pit the new VW Polo R-Line against the Alfa MiTo TwinAir to find out which is more tempting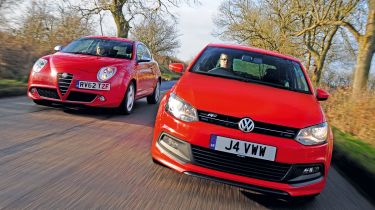 Downsizing is the latest fashion for car buyers, and manufacturers are falling over themselves to offer their smallest models in upmarket trim levels that will appeal to customers who are used to driving something a bit more substantial.
One company that has turned downsizing into a work of art is Volkswagen. The latest Polo has the quality of its Golf big brother, while a range of efficient petrol and diesel engines means wallet-friendly running costs. The latest model to join the Polo line-up is the R-Line. It slots in below the GTI, comes with a racy look and is powered by the brand's peppy 104bhp 1.2-litre TSI petrol engine.
For its first test, we've lined up another supermini newcomer. The Fiat Group's TwinAir engine has received praise in the Fiat 500 and Panda, so it's no surprise it has found its way under the bonnet of the Alfa Romeo MiTo. This 875cc petrol two-cylinder pumps out only 85bhp, but it has character in spades. It also promises low running costs, and combines the MiTo's sharp looks and driving thrills to deliver an appealing package.
Verdict
These cars appeal in very different ways, and just when we thought one had gained a clear advantage during our test, the other clawed back ground in another area.
There's no doubt that the Alfa Romeo MiTo can stop traffic with its looks, plus its engine has a more characterful soundtrack than those found in cars costing many times more. But the tiny TwinAir fails to deliver on its promise of efficiency. Its power delivery and short gearing demand that you thrash it to make meaningful progress – and this has a significant impact on economy.
The VW Polo is definitely the sensible choice of these two contenders. Subtle R-Line trim adds a sporty edge to the supermini's looks, while the interior remains a masterclass in quality, with a level of fit and finish the Alfa can only dream of emulating.
While the Polo's driving experience isn't the last word in excitement, it's entertaining enough most of the time, and is quite relaxing when you want to take things easy. Add economy that was a lot closer to the claimed figures than the MiTo's, and the Polo makes a strong case for itself.
In short, the R-Line is simply a more rounded package, so it deserves to take the victory here.