VW Polo 1.2 TSI review
Three-cylinder Volkswagen Polo supermini has impressed, but what about this 1.2 TSI four-cylinder?
The updated VW Polo remains a fine choice, as long as you spec it with the right engine. Around town the 1.2 TSI is smooth and refined, but on faster roads it feels underpowered. If you're only going to use it in town, we'd suggest opting for the equally efficient 1.0-litre and pocketing the £1,145 difference.
Volkswagen predicts that the new 1.0-litre three-cylinder engine will be the most popular choice in the fresh VW Polo range, but is the larger and more powerful 89bhp 1.2 worth considering?
Rather than cosmetic tweaks, the brand focused on mechanical upgrades when it updated the supermini earlier in the year. This 1.2-litre four-cylinder is one of the new additions to the range, offering 89bhp and 160Nm of torque.
The extra punch the 1.2 has over the 1.0-litre engine is immediately obvious. Acceleration is more urgent, with 0-62mph taking 10.8 seconds as opposed to 16.5 seconds. But find yourself in the wrong gear or on an incline, and it still feels a little bit breathless.
Elsewhere, the Polo has preserved its big car feel with a supple ride and light but accurate steering. And while the car can't quite frighten a Ford Fiesta when it comes to cornering fun, the petrol models have a sense of agility that the heavier diesels simply don't.
There's plenty of head and knee room for passengers in the rear, although 280-litre boot is a bit smaller than supermini rivals'. SE models get a generous level of kit as standard, such as alloys, as well as DAB and air-con. But sat nav is a £700 option.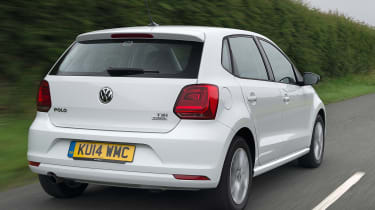 The problem with the 89bhp 1.2-litre engine is that it holds a middle ground where there is no specific focus isn't on value, economy or performance. It returns 60mpg, which is better than the equivalent but cheaper Fiesta or Renault Clio, and a match for the smaller 1.0-litre Polo. However, if fuel efficiency is a priority, the three-cylinder 1.4-litre diesel will return 83mpg-plus. For those wanting some extra punch the 148bhp Polo BlueGT will be a stronger choice, and it's still capable of 58.9mpg.
Admittedly, both cost more to buy, but if you want value, the entry-level Polo 1.0 undercuts the 1.2 by over £1,000 and will be just as cheap to run.