Volkswagen Tiguan Allspace vs Kia Sorento vs Skoda Kodiaq
VW hopes to make a big impact on the seven-seat SUV market with the Tiguan Allspace. We test it against the Kia Sorento and Skoda Kodiaq
As SUVs continue to dent sales of conventional cars, families are flocking to seven-seat versions in a bid to secure MPV practicality without compromising on style.
Volkswagen is after a slice of this lucrative market and has turned to its versatile MQB platform to create the new Tiguan Allspace. It's a seven-seat version of the brand's Tiguan 4x4, but this class of car is far from a new trend.
Another marque that's ploughed this furrow for a while is Kia, with its Sorento. It's a former Auto Express favourite, but a few years after its launch and with the arrival of newer models, it's slipped slightly in the rankings.
Still, the Sorento has recently been updated, featuring a new GT-Line trim level and an eight-speed automatic gearbox we're testing here. But these two models will have to fend off the challenge of our current diesel seven-seat SUV champ, the Skoda Kodiaq.
It offers value, practicality, decent performance and efficiency, so its new rivals will be judged by the same tough criteria. Which comes out on top?
Volkswagen Tiguan Allspace
| | |
| --- | --- |
| Model: | VW Tiguan Allspace 2.0 TDI 190 4MOTION DSG SEL |
| Price: | £37,730 |
| Engine: | 2.0-litre 4cyl turbodiesel, 187bhp |
| 0-60mph: | 8.4 seconds |
| Test economy: | 44.0mpg/9.7mpl |
| CO2: | 153g/km |
| Annual road tax: | £140 |
The popularity of SUVs shows no sign of diminishing, so Volkswagen has developed the seven-seat Tiguan Allspace to fill a gap in its range. Here we test the higher-powered 2.0 TDI 4MOTION DSG SEL, which is the priciest car of our trio at £37,730.
More reviews for Tiguan Allspace
The adaptive dampers aren't quite a necessity, but we'd strongly consider them because they give the Allspace a much broader operating window than standard. By that we mean we'd leave them in Comfort mode for 99 per cent of the time. The Tiguan's slight harshness over poorer road surfaces is reduced, and this makes the car more forgiving and comfortable to travel in.
It doesn't unduly affect agility, either. In fact, the VW is better in this setting thanks to the take-up in the suspension. You can reduce roll and make the chassis more taut by selecting Sport, but while the throttle is a little sharper and the powertrain keener to seek out revs and hold a gear, the steering isn't exactly communicative in any of the modes.
It's therefore best to leave it in Comfort and make progress using the respectable torque. The 2.0 TDI goes about its business audibly, but then so do the other cars' engines, yet it at least offers decent poke. At the track the Allspace accelerated from 0-60mph a tenth shy of the Skoda, in 8.4 seconds. In effect it matched it in gear, too, with only a few slight differences between their performance, which are difficult to pick up.
• Best 7-seater cars available
For a family SUV there's more than enough performance and thanks to the seven-speed DSG box's snappy response, it actually stands up to a bit of punishment relatively well. But it's the comfort of those dampers, especially on a motorway, that makes this a solid effort at a seven-seat family SUV by VW.
Testers' notes: "Unless four-wheel drive is a real necessity for you, there's a front-wheel-drive 2.0 TDI 150 Tiguan Allspace available with a DSG box that'll save you around £3,000 on both trim levels in the range."
Kia Sorento
| | |
| --- | --- |
| Model: | Kia Sorento 2.2 CRDi GT-Line |
| Price: | £36,495 |
| Engine: | 2.2-litre 4cyl turbodiesel, 197bhp |
| 0-60mph: | 9.6 seconds |
| Test economy: | 43.0mpg/9.5mpl |
| CO2: | 170g/km |
| Annual road tax: | £140 |
A long-time Auto Expresss favourite, the Kia Sorento is no longer the new kid on the seven-seat SUV block, so the Korean brand is hoping that this updated model – tested here in a new GT-Line trim level and with a new eight-speed automatic gearbox – can topple the Kodiaq.
The answer is mixed. There's no doubt that at higher speeds, two more ratios in the gearbox compared with its predecessor mean it's a quieter cruiser. But put your foot down and the vocal engine is hard to ignore; the VW suffers from a similar problem.
There's lots of torque from the larger 2.2 unit, with a peak of 441Nm from just 1,750rpm. Yet the 1,953kg Kia has more mass to shift, so performance was the most sluggish on test; it took 9.6 seconds to accelerate from 0-60mph. It feels laboured, too, but with more ratios fitted, the Sorento's in-gear performance surpassed both its VW Group rivals'. The 10.6-second time from 50 to 70mph in seventh was a highlight compared with the VW and Skoda's respective efforts of 17.9 and 18.0 seconds in that test.
While the new transmission shifts smoothly, it can't match the speed of its rivals' DSG units. This is frustrating if you need a dose of acceleration, because the box takes a while to kick down, which delays performance. There's little point in using the shift paddles that are specific to GT-Line and GT-Line S because the gearbox still feels lethargic. The ride is equally as relaxed, but more welcome here. Helped by its weight, the Sorento smooths out less jagged road surfaces, which means progress is calm.
Yet sharper bumps cause those 19-inch wheels to thump as the Kia loses control over its unsprung mass. It's clear that cruising round sedately in relative comfort is where the Sorento's focus lies.
Testers' notes: "As with the VW and Skoda, the Kia has selectable driving modes. However, they don't have much of an effect on the responses of the engine and gearbox to your inputs, even on this sportier GT-Line model."
Skoda Kodiaq
| | |
| --- | --- |
| Model: | Skoda Kodiaq 2.0 TDI 190 4x4 DSG Edition |
| Price: | £36,570 |
| Engine: | 2.0-litre 4cyl turbodiesel, 187bhp |
| 0-60mph: | 8.3 seconds |
| Test economy: | 44.7mpg/9.8mpl |
| CO2: | 151g/km |
| Annual road tax: | £140 |
If you're after a diesel-powered SUV with seven-seat capability, the Skoda Kodiaq is our current favourite choice, so it's this car the Allspace has to beat. At £36,570 in 2.0 TDI 190 4x4 DSG Edition spec it has price on its side, but this class is about more than just affordability, so how does it fare?
At our test track, the Skoda delivered a strong turn of straight-line speed. It accelerated from 0-60mph a tenth faster than the VW, in 8.3 seconds.
The Czech model was marginally quicker in gear than the Tiguan Allspace as well, but to all intents and purposes, there's very little to split the two VW Group products when it comes to straight-line performance.
It's not quite the same story with the ride, though. As standard the Skoda is softer and more forgiving than either the VW or Kia, smothering bumps with more compliance and therefore delivering a level of comfort that almost matches the Allspace's adaptive dampers in their Comfort setting. Add these on the Kodiaq and the ride is even more impressive.
Despite the raised ride height, roll is controlled well, as with the VW, which shares the same chassis. The Kia does roll more in bends in comparison. Refinement is okay, but it's no quieter than the VW and just about a match for the Kia when cruising.
However, the gearbox is great. Even in the Comfort setting it shifts swiftly, while manual control using the steering wheel paddles makes the most of the transmission's snappy response.
Overall, it's a good performer, with a decent level of acceleration on offer, plenty of composure and a good degree of agility that mixes comfort and dynamic ability well in a large family car like this.
Testers' notes: "The only real option you might want on Edition trim is the £385 reversing camera given the Kodiaq's size; but all-round parking sensors are standard, along with a power tailgate to help practicality."
Verdict
First place: Skoda Kodiaq
In almost every way, the Kodiaq is the best car here. It's slightly smaller than the Kia, but still more usable than the VW, plus it's by far the cheapest choice on PCP, yet you don't sacrifice any kit. The lowest running costs of the three make it attractive to private and business buyers alike, while the strong performance, impressive comfort and impeccable refinement seal the deal.
Second place: Kia Sorento
The Sorento just shades the Tiguan by virtue of its roomier cabin. It's not as good to drive, but you get a fair level of kit and that extra space means it's much more practical. Although performance lags behind its rivals', this is less of a concern here; usability and comfort are, and the updated Sorento delivers enough of both, while its new gearbox has helped improve efficiency, too.
Third place: Volkswagen Tiguan Allspace
In isolation the Tiguan is a good seven-seat SUV, with more style and as much practicality as the firm's Touran MPV. Yet in this company it doesn't offer as much space and versatility as its rivals, and it's more expensive. It also needs those adaptive dampers to match its competitors' comfort levels. Although it gets lots of kit, this model's running costs can't rival the Kodiaq's.
Other options in this category...
Citroen Grand C4 Picasso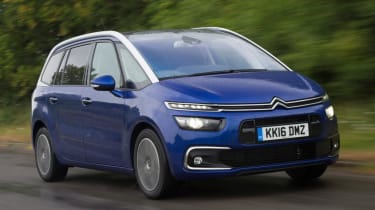 Model: Citroen Grad C4 Picasso 2.0 BlueHDi 150 Flair EAT6Price: £30,84Engine: 2.0-litre 4cyl, 148bhp
If you need seven seats but an SUV isn't for you, the Grand C4 Picasso fits the bill perfectly. While it trails these cars on performance, it's cheaper, gets similar kit and is even more spacious.
Land Rover Discovery Sport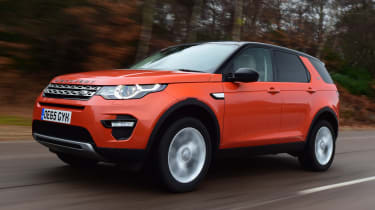 Model: Land Rover Discovery Sport TD4 180 Auto HSEPrice: £39,870Engine: 2.0-litre 4cyl, 178bhp
At the other end of the scale, the Discovery Sport offers seven seats with a more premium feel. Yet it's not much pricier than the VW, even if its third row is more cramped.
Figures
| | | | |
| --- | --- | --- | --- |
| | Skoda Kodiaq 2.0 TDI 190 4x4 DSG Edition | Kia Sorento 2.2 CRDi GT-Line | VW Tiguan Allspace 2.0 TDI 190 4MOTION DSG SEL |
| On the road price/total as tested | £36,570/£38,550 | £36,495/£36,495 | £37,730/£42,930 |
| Residual value (after 3yrs/36,000) | £16,826/46.0% | £17,331/47.5% | £16,148/42.8% |
| Depreciation | £19,744 | £19,164 | £21,582 |
| Annual tax liability std/higher rate | £2,305/£4,610 | £2,588/£5,175 | £2,379/£4,758 |
| Annual fuel cost (12k/20k miles) | £1,526/£2,543 | £1,586/£2,643 | £1,550/£2,583 |
| Ins. group/quote/cost | 22/£512/£140 | 26/£601/£140 | 23/£523/£140 |
| Servicing costs | £279 (2 services) | £349 (3 services) | £288 (2 services) |
| | | | |
| Length/wheelbase | 4,697/2,791mm | 4,800/2,780mm | 4,701/2,787mm |
| Height/width | 1,655/1,882mm | 1,690/1,890mm | 1,674/1,839mm |
| Engine | 4cyl in-line/1,968cc | 4cyl in-line/2,199cc | 4cyl in-line/1,968cc |
| Peak power/revs | 187/3,500 bhp/rpm | 197/3,800 bhp/rpm | 187/3,500 bhp/rpm |
| Peak torque/revs | 400/1,750 Nm/rpm | 441/1,750 Nm/rpm | 400/1,900 Nm/rpm |
| Transmission | 7-spd DSG/4wd | 8-spd auto/4wd | 7-spd DSG/4wd |
| Fuel tank capacity/spare wheel | 60 litres/£105 | 71 litres/space saver | 60 litres/repair kit |
| Boot capacity (7/5/2 seats) | 270/560-765/2,005l | 142/605/1,662 litres | 230/700/1,775 litres |
| Kerbweight/payload/towing weight | 1,720/767/2,000kg | 1,953/667/2,000kg | 1,845/610/2,400kg |
| Turning circle | 11.6 metres | 11.1 metres | 11.9 metres |
| Basic warranty (miles)/recovery | 3yrs (60,000)/3yrs | 7yrs (100,000)/1yr | 3yrs (60,000)/1yr |
| Driver Power manufacturer/dealer pos. | 2nd/5th | 3rd/6th | 14th/20th |
| NCAP: Adult/child/ped./assist/stars | 92/77/71/54/5 | 90/83/67/71/5 | 96/80/68/68/5 |
| | | | |
| 0-60/30-70mph | 8.3/8.9 secs | 9.6/10.2 secs | 8.4/8.5 secs |
| 30-50mph in 3rd/4th | 3.2/5.2 secs | 3.4/4.6 secs | 3.4/5.1 secs |
| 50-70mph in 5th/6th/7th/8th | 6.4/9.2/18.0 secs/N/A | 5.8/7.2/10.6 secs/N/A | 7.1/10.1/17.9 secs/N/A |
| Top speed/rpm at 70mph | 129mph/1,900rpm | 127mph/1,600rpm | 130mph/1,900rpm |
| Braking 70-0/60-0/30-0mph | 54.9/43.6/10.2m | 63.5/36.9/11.1m | 54.9/43.6/10.2m |
| Noise outside/idle/30/70mph | 71/47/59/70dB | 71/45/62/70dB | 71/47/59/69dB |
| Auto Express econ (mpg/mpl)/range | 44.7/9.8/590 miles | 43.0/9.5/672 miles | 44.0/9.7/581 miles |
| Govt urban/extra-urban/combined | 42.8/53.3/49.6mpg | 38.7/47.1/43.5mpg | 42.2/53.3/47.9mpg |
| Govt urban/extra-urban/combined | 9.4/11.7/10.9mpl | 8.5/10.4/9.6mpl | 9.3/11.7/10.5mpl |
| Actual/claimed CO2/tax bracket | 169/151g/km/32% | 176/170g/km/36% | 172/153g/km/32% |
| | | | |
| Airbags/Isofix/park sensors/camera | Seven/yes/yes/£385 | Six/yes/yes/yes | Seven/yes/yes/£300 |
| Auto box/lane keep/blindspot/AEB | Yes/yes/yes/yes | Yes/yes/no/no | Yes/yes/£395/yes |
| Clim ctrl/cruise/leather/heated seats | Yes/yes/yes/yes | Yes/yes/yes/yes | Y/adaptive/£1,615/y |
| Metallic/LEDs/keyless go/pow tailgate | Yes/yes/yes/yes | £615/no/yes/no | £570/yes/yes/yes |
| Nav/digi dash/DAB/connected services | Yes/no/yes/yes | Yes/no/yes/yes | Yes/yes/yes/yes |
| W'less charging/CarPlay/Android Auto | Yes/yes/yes | No/yes/yes | £335/yes/yes |