'Volvo's success in the premium league is deeply impressive'
Volvo CEO Hakan Samuelsson deserves his 2018 World Car Person of the Year title, says Mike Rutherford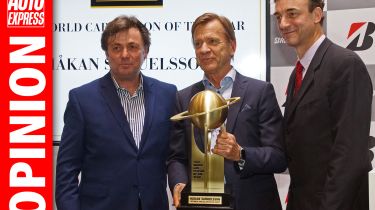 Me and my big mouth. A year or three ago at a World Car of the Year (WCOTY) board meeting in New York, I piped up and argued that the best cars on the planet are often (too often?) rewarded, while the top car people rarely win trophies for themselves, their personal offices, studios, garages etc.
Furthermore, I told my fellow WCOTY directors that we can, must and will hand an annual World Car Person of the Year gong to the top man or woman in what can loosely be described as the global automotive business. Think car designer, corporate boss, inventor, vehicle safety guru, tech head, racing driver – you name it. Long story short, the idea got the formal go-ahead, and a list of highly impressive nominees was drawn up for the 2018 World Car Person of the Year award.
• World Car of the Year 2018: finalists announced
In the first round I nominated Aston Martin CEO Andy Palmer because of the exceptional things he's doing with his cars, finances, image, sporting activities, and automotive plus non-automotive designs and products. He's one of the best and most active flag-flyers for UK plc, too. And the icing on the cake is that he's transforming Wales into a car-producing nation thanks to Aston's new factory there.
Trouble was, my fellow World Car Person of the Year judges/jurors in Asia, North America and mainland Europe couldn't quite bring themselves to give the final nod to Palmer, and voted for the ice man – Volvo CEO Hakan Samuelsson (my second choice).
I know this because I presented HS with his heavy metal WCPOTY trophy at last week's Geneva show. It would've been nice to hand the gong to Dr Palmer, but the mean, green, lean Swede just did enough to edge out the plucky Brit.
It's Samuelsson's success in cementing Volvo's place in the near-impossible-to-impregnate premium league that deeply impresses. That and his ability to reinvigorate Volvo's public image and maintain the company's legendary status as a designer and producer of some of the safest vehicles on the planet.
There's also his "electrification" programme, and the little matter of the ice man being great at earning a shilling for his now-profitable company. And he brilliantly bridges the sometimes awkward gap between Volvo in Sweden and its controlling Geely godfathers and paymasters in China. Not easy, that.
Personally, Samuelsson also impresses me because he doesn't often wear a tie – a man after my own heart! Verdict: of the scores of millions of people working in and around Planet Car, Hakan Samuelsson occupies the No 1 spot in 2018. Aston Martin's Dr Andy Palmer merely has to settle for the unofficial title of second best car bloke on the planet – for now, at least. Roll on 2019, I say.
Now read about Land Rover doing 'the unthinkable' in the World Car of the Year final…