'Will Volvo be the hottest car company of 2019? Probably'
As Volvo scores two wins at the New Car Awards, it's ideally placed to take on established premium brands, says Mike Rutherford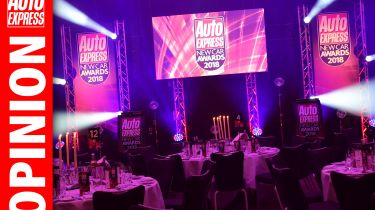 There's no better place than the Auto Express awards to catch up with the great and the good from the global motor industry. And because I'm partly responsible for him entering the car business many years ago, I had a long chat with Volvo director Mike Johnstone at the ceremony last week.
He agrees his firm's on a roll after winning Auto Express trophies, plus the World Car of the Year title a few months back. Although he's too modest to admit it, Volvo isn't unlike Audi was 20 years ago: taking on established premium firms, before matching or beating them. Volvo's credentials are bolstered by the fact that, like Mercedes, BMW, Jaguar and Lexus, it has just picked up two Auto Express new car gongs, while Audi failed to win one!
• Auto Express New Car Awards 2018 - the winners
Johnstone seems flattered by comparisons with the still-great company from Ingolstadt. Yet he insists Volvo is still warming up and there is much work to do. One area is convincing the public that Volvo is now a proper, fully-fledged premium outfit that deserves a place in the same league as Audi, BMW, Jaguar, Land Rover, Lexus and Mercedes.
Some believe Volvo still isn't quite there as a premium marque. Johnstone doesn't dismiss the assertion, but he's not agreeing with it, either. He reminds me that Mercedes has been leasing its high-end cars for hundreds of pounds per month, while charging around £150 a month for the A-Class. In that sense, the firm seems firmly ensconced in the premium and 'pile 'em high, lease em 'cheap' markets. Maybe that's where it and Volvo need to be.
Volvo's only one member of the giant Geely clan, which is to China what the VW Group is to Germany. Volvo has many new siblings, including the London Electric Vehicle Company, Lotus, Lynk & Co, Polestar, Proton and Terrafugia. Also, Geely owns a large and intriguing slice of the Daimler/Mercedes pie. So with all this in mind, could Geely's strategy be to pitch Volvo as a mass-market brand (albeit a high-quality one) that'd be in the same mould as Volkswagen, rather than taking the final step of trying to turn it into a full-blown premium marque such as Audi? Possibly. We'll see in the very near future.
And we'll also be seeing how Volvo intends to educate and win over buyers who remain confused by cars powered in full or part by electricity. It's started the ball rolling with the 'Twin Engine' tag it has slapped on its XC60 T8, which has a petrol-powered motor backed up by an electric unit. Much responsibility rests on the Swedish manufacturer's corporate shoulders, because the brand has been more anti-diesel and pro-electric (or petrol-electric) than all of its obvious rivals. Volvo, the hottest car company on the planet in 2018? Probably.
Read why the Volvo XC40 won our Small Premium SUV of the Year award for 2018…