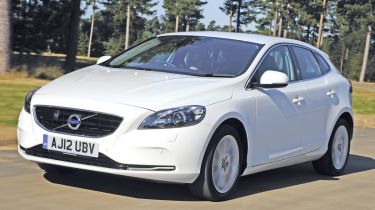 The stylish Volvo V40 is now available with an ultra-efficient 1.6 litre diesel engine. The Volvo V40 D2 has an official fuel economy figure of 83.1mpg and emits just 88g/km of CO2.
This means that it's not only economical on fuel, it also qualifies for free road tax, as it sits in VED Band A.
The car is not just about its high mpg, however. The V40's sculpted good looks make it stand out from its Audi A3 and BMW 1 Series rivals, while a comprehensive equipment list ensures the V40 ticks plenty of other boxes, too.
Volvo is renowned for its safety kit and the V40 is no different. Innovations here include the world's first U-shaped pedestrian airbag, which pops out from under the bonnet to soften an impending impact it has detected.
True, the V40 is not as spacious as its rivals, and it's not quite as good to drive, either. It does deliver accurate steering and plenty of grip, but if you are after a sporty drive you might be better off in a BMW 120d - although a fun-driving car may not quite bring you the fuel savings you were after.