£30,000 - £40,000 - Volvo XC60 D5 AWD R-Design NAV
Spending your hard-earned cash on any car is a daunting prospect, but if that model also has to tow your caravan, trailer or horsebox, you have to make your investment count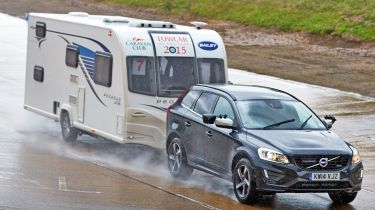 Contenders
Spending your hard-earned cash on any car is a daunting prospect, but if that model also has to tow your caravan, trailer or horsebox, you have to make your investment count. This year's £30,000-£40,000 category was a mixed bag, but the Volvo XC60 D5 AWD utlimately came out on top.
As part of a recent facelift, the XC60 has been given a sleek new image. Modern-looking headlamps and a sculpted bumper now house wider-set daytime running lights, while a larger Volvo badge and less intrusive Adaptive Cruise radar sensors tidy up the grille.
A six-berth Bailey Pegasus GT65 Anacona caravan provided a stiff challenge. And while our test XC60 proved a little noisy under pressure – the gruff five-cylinder diesel hasn't been updated as part of the revamp – its six-speed Geartronicbox pulled well through the ratios. The Volvo's steering lacked feedback, but the car and caravan remained unflappable, even at speed.
A lap of the challenging hill route confirmed that the XC60's soft yet comfortable ride is better suited to motorway cruising than country lanes. While the SUV offers decent levels of grip, overall the driving experience isn't as sharp as some class rivals'.
Yet what this car lacks in outright thrills, it more than makes up for with supreme comfort. The interior is very impressive, with the high driving position giving good visibility, while material quality is great throughout.
The layout is clean and simple, with the floating centre console an elegant touch. And to add to the appeal, the 495-litre boot capacity rises to 1,455 litres when you fold the rear seats – plenty of space for holiday gear.