New all-electric Abarth 500 coming soon
An Abarth 500 hot hatch will be the first electric car from Fiat's sporty sub brand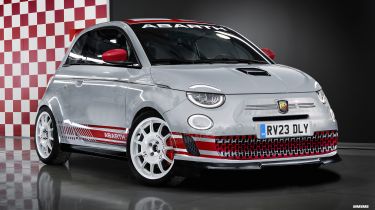 Abarth is set to launch its first all-electric car, a rapid hot hatch based on Fiat's electric 500. Promising to deliver more power, sharper handling and more extroverted looks, it will also mark the first step in the brand's transition to an all-electric range of cars when it hits showrooms, possibly as soon as next year.
As our exclusive image shows, the new electric Abarth will almost certainly retain the sporting details we've become accustomed to from the brand's cars. Speaking to Auto Express, Fiat CEO ​​Olivier François said, 'The looks are the same. We need to be a little bit more extrovert. Abarth is always a little bit over the top, with spoilers and wheels.'
Performance details have not been revealed but expect it to comfortably beat the fastest version of the Fiat 500 electric. In the standard car the mid-level and range topping versions get a 42kWh battery producing 116bhp, allowing for a 0-62mph time of 9 seconds and a 93mph top speed. Abarth's electric 500 will need a significant boost in power to match another upcoming retro hot hatch - the 215bhp Renault 5-based Alpine R5.
In terms of range the electric 500 can offer up to 199 miles but with Abarth focusing on performance, the sportier version will likely not be able to travel as far on a single charge.
The company is also undecided as to whether it gives the Abarth 500 a fake petrol-engine soundtrack, or to accentuate the car's electric motor and gearbox whine. Olivier François added, 'Do you want to put a super Abarth-ish sound or we can also invent a kind of Formula E sound that's very loud'.
Since the demise of the 124 Spider, the Abarth model range has been limited to the 595 models that are closely related to the old petrol-powered Fiat 500. So with this all-new EV model replacing the old car, Abarth will no longer have any internal combustion-powered models. There will also be another fully-electric Abarth launched by 2025, which will also be a derivative of a Fiat.
Check out the best hot hatches on sale right now…