Vredestein Ultrac Vorti
Vredestein was the star of the dry handling circuit.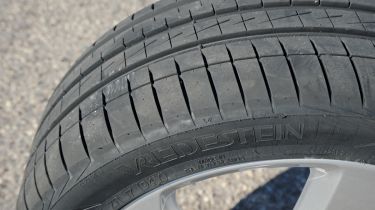 Vredestein was the star of the dry handling circuit. Its Ultrac Vorti tyre felt sharp and sporty without being too sensitive, plus it hung on well under hard acceleration. This was also the only tyre to complete a lap within 100 seconds, giving it an unusually large winning margin in this often closely fought test.
As impressive as that is, though, it comes at a price in the wet – an area where Vredestein products used to shine. A successful tyre has to perform well when the heavens open, and while the long, steady sweep of the wet cornering test suited it – the tyre finished third here – it was short of front-end grip and lacked overall balance on the rest of the circuit.
The deeper water of the aquaplaning tests did the Ultrac Vorti no favours – it came eighth in both assessments, and in the straight-line test, it lost grip at 5mph lower than the winning Michelin.
More worrying was the tyre's wet braking performance. It needed an average of seven metres longer to stop than the winning Continental and three metres more than the rest of the pack, and ultimately finished the test a disappointing ninth.
Since the Ultrac Vorti is a relatively new design (although an R version has just been launched), its rolling resistance results are disappointing. They were a long way off the best performers and noticeably worse than similarly priced rivals – with around a five per cent difference in fuel consumption.
It finished in the midfield for cabin noise, although the margins there are small.
| | |
| --- | --- |
| Test results | |
| Dry braking | 94% |
| Dry handling | 100% |
| Wet cornering | 94.7% |
| Wet braking | 81.6% |
| Wet handling | 97.2% |
| Straight aqua | 91.4% |
| Curved aqua | 86.7% |
| Cabin noise | 98% |
| Rolling resistance | 69.2% |
| Overall | 95.8% |