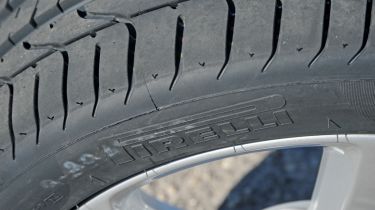 Back in 2008, the P Zero won our test of 17-inch tyres, finishing ahead of 15 other challengers. Over the years, the design has no doubt been tweaked – Pirelli tells us it has even made further modifications since we conducted our test – but the P Zero remains fundamentally the same tyre, and must be nearing the end of its life.
While other premium manufacturers have come up with new designs and developed the almost universal asymmetric pattern in the run-up to the introduction of tyre labelling, this tyre retains its same distinctive tread.
Still, despite its advancing years, the Pirelli still felt planted on a wet track, with no rear movement, despite the strong front-end grip. You could get on the throttle early, with little or no risk of the front wheels pushing wide.
The Pirelli also fared well in our wet cornering and braking tests, albeit some way behind the remarkable Continental in both assessments. Its limitations came to the fore in our aquaplaning tests, however – here, it propped up the results table, and found itself some way off the pace of the leading performers.
The tyre did little better in the dry, but was closer to the best in our braking tests and finished in the midfield in the closely matched handling test. Although it was unable to do the lap times, it felt good, with positive turn-in and a stable rear. Yet there was another poor showing in the rolling resistance test – the P Zero would get through about five per cent more fuel than the most efficient tyre, the Dunlop.
| | |
| --- | --- |
| Test results | |
| Dry braking | 93.7% |
| Dry handling | 97.1% |
| Wet cornering | 93.5% |
| Wet braking | 86.6% |
| Wet handling | 99.1% |
| Straight aqua | 87.6% |
| Curved aqua | 86.6% |
| Cabin noise | 97% |
| Rolling resistance | 68.2% |
| Overall | 95.4% |