UK top tyres rated
We test the best tyres for your car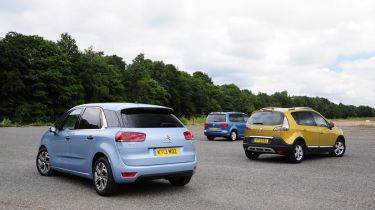 Labelling has had a big impact on the tyre industry. Since 2012, it's been compulsory for manufacturers to rate the performance of their tyres, then publish those ratings on easy-to-understand labels – like those on fridges and washing machines – to help buyers make the right choice.
And while research shows not all drivers have grasped exactly what the labels stand for, especially in the UK, makers have been working on little else for the past few years. All are keen to ensure their tyres have the best ratings possible, and there has been a flurry of new products designed to do well in the three label rating criteria: wet grip, rolling resistance (which shows their effect on fuel economy) and, to a lesser extent, pass-by noise.
Tyres are constantly being refined, too, so it's crucial you choose the latest spec. But while tyre labelling is undoubtedly useful when buying, it doesn't give you the full picture.
Only Auto Express' annual tyre test provides a comprehensive view of how a tyre compares to rivals – instead of rating three criteria, we conduct nine performance tests to give you a precise percentage score, rather than the broad bands of the labels. This year, for the first time in more than a decade, our test was conducted at Goodyear's Mireval proving ground in the south of France. And our expert team put 10 tyres through their paces in the UK's second biggest selling size: 225/45R17. So which is the best tyre for you?
How we rate the best tyres for your car
Our test is far more comprehensive than those conducted to get tyre label ratings. We assess each tyre in nine categories, with Auto Express drivers doing all tests apart from those requiring specialist skills or equipment. Our unique scoring system keeps things fair. The top tyre in each test gets a score of 100 per cent, with the rest rated relative to that. We tot up the percentage scores from each test, then weight them according to the performance gap.
We tested them on:
• Wet handling
• Wet braking
• Wet cornering
• Straight aquaplaning
• Curved aquaplaning
• Dry handling
• Dry braking
• Rolling resistance
• Noise
• Price
Verdict
New designs launched in response to the arrival of tyre labelling had the upper hand this year. Once again, Continental best managed the tricky balance between wet and dry grip and economy – and the braking performance of the ContiSportContact 5 was something special. We liked Michelin's Pilot Sport 3 when we tested this size of tyre two years ago, and it's just as good today, particularly in the wet. In third place is Dunlop's new Sport Maxx RT – and it would be a winner if it could balance its strong economy with better wet road performance. Finishing in equal fourth place are Hankook and Goodyear, with the former's S1 evo2 tyre showing decent ability in wet conditions. The sporty Yokohama V105 heads the best of the rest, from the troubled Bridgestone and Vredestein, while a replacement for Pirelli's P Zero must be on the horizon. The GT Radial proves Chinese producers are making significant strides, but still finishes last.
1st place - Continental ContiSportContact 5
2nd place - Michelin Pilot Sport 3
3rd place - Dunlop Sport Maxx RT