Aston Martin DBS Superleggera - best supercars
The Aston Martin DBS Superleggera slots into the space between the DB11 and the Vantage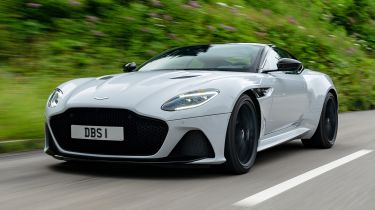 At the heart of the Aston Martin DBS Superleggera lies a 5.2-litre twin-turbo V12, the same one utilized by the DB11. It provides a fitting soundtrack for Aston's super-GT, as well as incredible performance.
715bhp and 900Nm of torque are the headline figures, resulting in a 0-62 figure of 3.4 seconds and a top speed of 211mph: not bad for a car designed to take on continents rather than racetracks.
• Aston Martin DBS Superleggera review
That's not to say the DBS suffers while cornering: in fact, fast corners are where it comes alive. 180kg of downforce provides stability at speed, and on smooth asphalt at least, the DBS feels compliant.
This is good news for those inclined to drive long distances, but be warned: you might find yourself driving past your destination just to enjoy a few more miles behind the wheel.
Top 10 best supercars 2021
Aston Martin DBS Superleggera