Audi snaps up Q4 and Q2 names from Fiat
FCA finally agrees to let Audi use its trademarked names opening the way for new Audi SUV and crossover models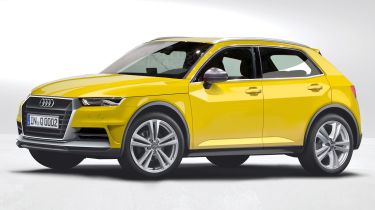 Audi has swapped trademarks with Fiat Chrysler Automobiles (FCA) to snare the rights to the Q4 and Q2 and badges for upcoming crossover SUVs.
Audi CEO Rupert Stadler confirmed at the Detroit Motor Show that the brand had finally persuaded FCA to release the two names – allowing Audi to lock up the Q1 to Q9 badges for its growing SUV family.
Audi already plans to drop the Q2 name onto its MQB-based city crossover this year, while the Q4 badge will slot onto the rump of a "coupe" version of the next Q3.
• New Audi Q2 heads brand's SUV boom
It will also reserve the Q1 badge for a 2018 baby crossover, based around the architecture of the next A1 hatch, which will share a lot of its engineering with Volkswagen's Polo-based soft-roader, dubbed T-Cross in concept form.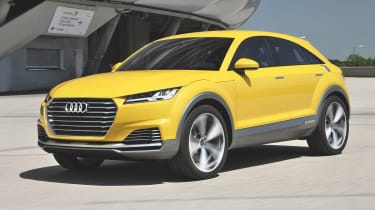 It has also pounced on the naming rights for SQ versions of all of its Q-cars, along with f-tron, possibly to complement e-tron and h-tron in their range of alternative powered vehicles.
Stadler insisted that no money had changed hands in order to pry the two badges off FCA, admitting that they had "each found something we needed."
"We promised each other we wouldn't disclose what it cost, but it was not something they were willing to sell," Stadler insisted. "We tried to get it years ago and they said 'No, never', but there is never 'never' in business. This year I went back to them with a proposal and we talked and there were some negotiations and then we agreed to it."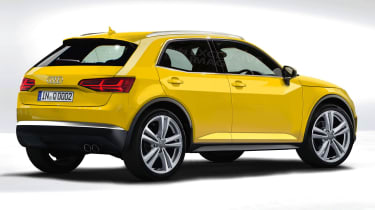 Those negotiations are believed to have centred on a trademark swap with a Volkswagen Group name that FCA desperately (evidently) wants to use on an upcoming Fiat, Chrysler, Alfa Romeo, Dodge or Maserati.
Asked if Audi had given FCA a trademark in return for Q4 and Q2, Stadler replied: "Something very much like that, yes."
Which brand did Audi swap with Fiat for Q4 and Q2?
Audi has used Italian names on past concept cars that FCA could be interested in, such as the 2001 Avantissimo concept and the 2003 Nuvolari coupe. Both are unlikely trade chips, though, with laws in Europe preventing the trademarking of the names of actual people.
There is always quattro (Italian for four), but after investing nearly four decades locking it in as an Audi all-wheel drive name, it's just not anything like trade bait.
Audi has held the rights to Duo since 1997, but the only name sitting unused inside the Volkswagen Group with enough weight behind it is Bora.
Bora was used on two Maserati coupes (from 1973 to 1974, and from 1975 to 1980) until the company fell into such dire financial straights that it couldn't renew the trademark and Volkswagen then used it on a Golf-based sedan from 1999 to 2004.
Both Maserati and Volkswagen had a thing for naming their cars after winds of the world, with Bora the name of a wind in the Adriatic Sea. Maserati's wind-name list also includes Mistral and the Khamsin.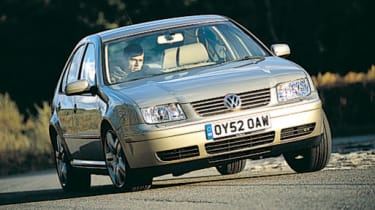 The only Volkswagen wind name still in production is the Scirocco, a north African wind, though the Golf-based hatch is unlikely to be replaced at the end of its life-cycle. 
The only other Italian-language name sitting unused in Volkswagen's legal department is Lupo (Italian for wolf), which fell out of use in 2004.
FCA had retained Q2 as a technology badge to cover its limited-slip differential technology, which morphed from mechanical to electric control. The Q4 badge, denoting all-wheel drive, last rested on the back of Maserati's Ghibli and Quattroporte saloons.
Are you excited about the Audi Q4 and Q2? Let us know in the comments section below...