Audi A4 Cabriolet
Years built: 2005 to 2009 Prices: £9,000-£25,000 Our pick: 2.0 TDI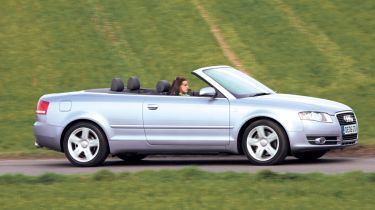 This is the seventh year in a row that the A4 has walked away with the Best Used Cabriolet crown. It's easy to see why: a desirable image, elegant appearance and strong resale values guarantee that even third-hand examples are worth something.
Prices for the cheapest cars on the market have plummeted to below £10,000, but it's best to steer clear of sparsely equipped versions. Likewise, while petrol models with big engines are tempting, they are costly to run. Age has nudged down values of early cars, but the Audi will still hold its price well compared to rivals of the same era and spec.
While there's not a lot wrong with the 1.8 and 2.0-litre turbo petrol engines, the sensible choice is the 138bhp 2.0 TDI diesel, which promises 44.1mpg economy.
The 3.0 TDI is quicker and sounds more muscular, but you'll pay extra at the pumps, and it highlights the limitations of the chassis.
Cabriolets are all about style, so keep an eye out for S line trim, which includes larger wheels, a leather interior and more. Top build quality is a given, and the A4's respectable 36th place in this year's Driver Power survey bodes well for reliability.
When looking at prospective cars, ensure you closely examine the fabric roof, as any repairs will be costly. And if you can't afford a post-2005 model, earlier cars are cheaper and look just as smart.
Value choice
2006 to date
Unique styling helps the Eos stand out from its Golf and Passat stablemates – and it's the best four-seat coupe-cabrio by a mile. A wide range of engines caters for all tastes, and prices start at £7,950. That buys an 06-reg 2.0-litre petrol car with 65,000 miles on the clock.
Nearly new
2007 to date
Evergreen 3 Series has spawned one of the most engaging cabriolets on the market. Fine build quality, tidy looks and a spacious cabin make this the ultimate second-hand prestige folding hard-top model. The downside? Prices are high, as it holds on to its value so well.
The Categories