Ford Fiesta
Years built: 2009 to date Prices: £5,500-£14,000 Our pick: 1.25 Zetec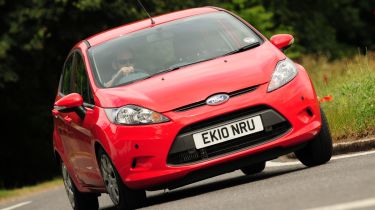 It was only a matter of time before the
Ford Fiesta
scooped class honours in our Used Car Awards. The big-selling supermini is a consistent favourite at our New Car Awards, and has been on sale since 2009, so second-hand values have dropped to £5,500 for the cheapest examples.
While it isn't the biggest car in its class, nor the most versatile inside, it's fantastic to drive. Plus, the styling still looks as fresh as it did when the model first hit showrooms, and it represents great value for money. Mid-spec Style+ and Zetec versions are the best trims in the range, so aim for these if your budget allows.
The 1.6-litre petrol variant is quick and entertaining, especially in Zetec S guise, but it's not as frugal as other models in the line-up. As long as you don't do huge distances, the 1.25-litre petrol engine is a great all-rounder. It's greener and more cost effective than the larger 1.4-litre, and doesn't suffer a huge performance handicap.
If you're in the market for a diesel, the 1.4 TDCi does everything the 1.6 version does, and will cost you less to run. However, the pricier 1.6 ECOnetic will appeal to high-mileage drivers, with up to 76mpg economy on the cards.
The best thing about the Fiesta is that it's a second-hand car that would still win an Auto Express road test of new models.
Driver Power 2011
What you said: "This is my fifth Fiesta, and is by far the best so far. It looks great, drives superbly and is incredibly economical. I've had other cars, but the Fiesta continues to tick all the boxes."
Value choice
Audi A2 
1999-2005
If ever a car was ahead of its time, it was the A2. Rock-bottom running costs, especially from the 1.4-litre diesel, blend with stand-out styling and strong badge appeal. Best of all, high milers start at £1,500, although the arrival of a new A2 – seen at this week's Frankfurt Motor Show – could hike prices.
Nearly new
2008 to date
Italian giant Fiat can do no wrong when it comes to small cars. The revived 500 proved a hit with buyers from the off, with its cheeky looks, low costs and small but peppy engines. That means supply of second-hand models is plentiful, so getting hold of the right one for you should be straightforward.
Premium Supermini
MINI MkII
Years built: 2007 to date
Prices: £6,250-£18,000
Our pick: One D
The MINI is one of the safest used buys, thanks to cast-iron residuals and great desirability.
Most of the appeal lies in its cheeky looks and sharp handling, but early examples of the second generation now start at around £7,000, so it's more attainable than ever. And while later cars are still pricey, if you're buying nearly new, check out a dealer for models sold under the Cherished approved scheme.
The MINI ranked 35th in our 10 years of Driver Power reliability survey, and build quality is excellent. Practicality isn't a strong point, due to the hatch's four-seat layout and tiny boot. Keep an eye out for cars specified with a Chili Pack. This adds plush extras such as sports seats, automatic air-con and Bluetooth connectivity. Bear in mind that huge scope for customisation new makes finding identical models difficult, so comparing like for like is near-impossible.
Diesels are really cheap to run, with 74.3mpg economy and 99g/km emissions, yet basic petrol MINIs can still do 50mpg. Supercharged Cooper S models are genuinely fast, and are cheaper and easier to live with than the hardcore John Cooper Works flagship.
The Categories