BMW 3 Series
Years built: 2005 to date Prices: £6,500-£29,000 Our pick: 320d SE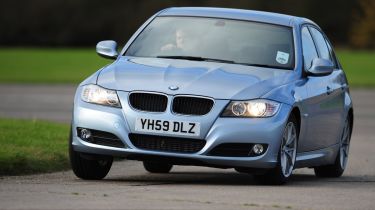 Last year's Used Car of the Year is still a fantastic buy. A second-hand 3 Series has it all: superb dynamics, solid quality, reliability and class. Strong sales from new, especially in the fleet sector, mean there are plenty to go around, but online retailers and car supermarkets are where to look for bargains.
The choice of engines and spec is seemingly never-ending. Temptingly priced 318i and 320i petrol variants are the easiest way into 3 Series ownership, but the 163bhp 320d is the best option for high-mileage users, as it is powerful and returns a respectable 49.6mpg.
Mid-range SEs make the most used sense. They are not as flash as M Sport or Business Edition versions, yet they have just enough kit to remain desirable without becoming money pits. A mild facelift in late 2008 drove down prices of previous examples, but the 3 Series is still a better bet than non-premium rivals such as the
Ford Mondeo
or
Honda Accord
when it comes to residual values.
The cabin isn't especially thrilling, yet it oozes class and is beautifully executed, while the 460-litre boot is not to be sniffed at. Plus, the trademark rear-wheel-drive handling, beautifully weighted steering and scalpel-sharp responses deliver entertaining dynamics.
Value choice
2001-2008
AS with all A4s past and present, the previous-generation car is classy and built to last – and it now appears amazingly good value for money. The TDI diesel engines serve up the best combination of power, 
economy and strong residuals. 
Nearly new
2008 to date
If you don't want a 3 Series, the current A4 retains the same core values of fine build and reliability as its predecessor. It's also more spacious than its rival, while the latest engines make it more economical than ever. Go for a quattro 4WD model if you're fed-up with being stranded in the snow…
The Categories