Ford Mondeo
Years built: 2007 to date Prices: £5,000-£27,000 Our pick: 2.0 TDCi Zetec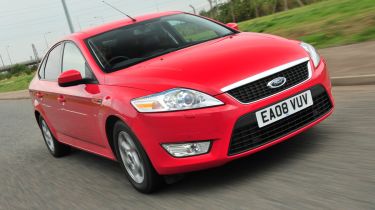 It's a third year at the top for the Mondeo. The Ford family car is a firm favourite here at Auto Express, and strong supply to the second-hand market means that it just keeps getting cheaper.
Early variants of the latest model can now be found for as little as £5,000 – and even less than that if you are prepared to buy a high-mileage example.
A recent facelift has helped to drive down values even further, too, while nearly new revised versions are better-looking and more efficient than ever.
Crisp styling and a strong blend of ride comfort and handling agility are appealing enough, but there's far more to the Mondeo than a talented chassis. As far as engines and trim levels go, you really are spoiled for choice.
There's everything from a humble 1.6-litre petrol unit through to a raft of economical diesels and modern EcoBoost turbos in nearly new models.
Try to avoid the entry-level petrol variants and trims because they will prove difficult to sell on. We recommend cashing in on a well equipped example after letting the original owner 
take the depreciation hit.
You will struggle to beat a 1.8 or 2.0-litre TDCi diesel as a second-hand buy. The former returns an average of 50.4mpg, while the latter isn't far behind, but adds more power. Mid-range Zetec models offer the best blend of equipment and value, so they make the most sense as either a long or a short-term purchase.
Whichever you go for, though, this spacious, value-for-money family car makes a brilliant buy.
Value choice
2005-2011
The Passat was heavily revised earlier this year, so previous-generation models are now cheap and abundant. Well built, durable and spacious, it's as sound a used buy as ever, while the efficient TDI diesels are a great choice. A classy option if you want a saloon.
Nearly new
2008 to date
Amazing performances in our annual Driver Power satisfaction polls back up Skoda's solid reputation. No model personifies this more than the Superb, which is spacious, classy and comfortable. It's pricey as it's still so new, but you won't feel short-changed. 
The Categories