Audi TT Mk II
Years built: 2006 to date Prices: £12,000-£40,000 Our pick: 2.0 TFSI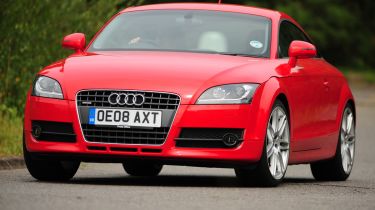 It's another year at the top for the TT as our best used coupe. The 2+2 has the core values of sharp styling and strong performance that matter in this class, but backs them up with excellent build, superb residual values and wide availability.
Best of all, there's plenty of choice in terms of engines and trims. The sensible choice is the 197bhp 2.0 TFSI. It's powerful and plentiful on second-hand forecourts. A 2.0 TDI diesel was introduced in 2008, with exceptional economy and even stronger resale values. It's punchy, too, but less common than petrol versions.
If you can stomach the running costs, the 3.2 V6 quattro can be found at rock-bottom prices – it's less desirable due to its thirst. Hot TTS and RS are thrilling, but expensive to buy and run.
The vast number of TTs out there means you can be picky. Main dealers have good cars, usually with warranty cover, but independents and private sellers offer the best bargains.
Popularity doesn't seem to have stunted the TT's ability to hang on to its value, as is often the case with other models. While the MkII is as affordable as ever, there are still cheaper coupes second-hand.
Value choice
1998-2006
Bargain coupes don't come much better than the original TT. It's been 13 years since it first arrived, and the performance icon is still as stylish as ever. Early high-milers can now be had from less than £3,000, while the wide choice of drivetrains is impressive for a car in this sector of the market.
Nearly new
2010 to date
Arguably the best-looking car of the moment, the RCZ is every inch the stylish coupe. Good to drive, with a choice of diesel and turbocharged petrol engines, it's a welcome return to form for the brand. Flagship THP 200 versions are easily the most desirable and enjoyable – just don't expect to find one for less than £16,000.
The Categories