Ford S-MAX
Years built: 2005 to datePrices: £4,500-£32,000Our pick: 2.0 TDCi Zetec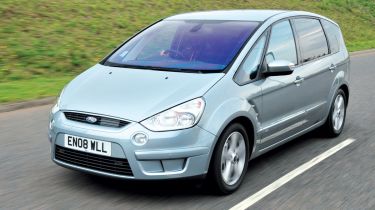 attractive this time around.
It eclipses virtually every other seven-seat MPV from behind the wheel with its nimble handling, but it's also comfortable. What's more, it feels like a premium product, there's plenty of space and the interior is one of the most flexible there is.
As we've come to expect from Ford, there are plenty of engines on offer. The smooth, powerful and quiet 2.0, 2.3 and turbocharged 2.5-litre petrol engines are typically attractively priced, but expensive to run. Diesels are much more sensible, and you can choose between 1.8, 2.0 and powerful 2.2-litre units.
The 2.0-litre TDCi is the best all-rounder, with a fine blend of economy and performance. If you're on a budget, then it's worth checking out the 1.8-litre diesel, which is the cheapest to buy and run, with 45.6mpg and 164g/km.
Entry-level LX or later Edge models are reasonably well equipped, but Zetec versions offer the best mix of kit and value.
The S-MAX finished 18th overall in our Driver Power 2011 survey, which is the highest of any MPV. A raft of revisions last year means nearly-new buyers should also focus on the brilliant Ford.
Value choice
1996-2011
Read our latest run down of the best MPVs
The Categories