Land Rover Discovery 3
Years built: 2004-2009 Prices: £11,500-£30,000 Our pick: TDV6 HSE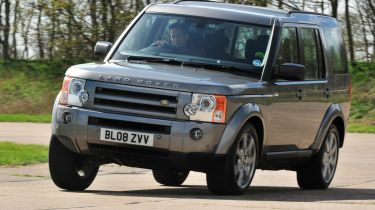 A fourth year at the top cements the Discovery 3's dominance in the large SUV category. Without question, it's the most rugged, capable car on these pages, and its incredible off-road ability is matched only by its superb practicality. The huge interior provides seating for up to seven and a big boot.
Reliability hasn't always been a strong point for the Brit manufacturer, but the arrival of the Discovery 3 is what kick-started Land Rover's improved status. Still, when considering such a complicated vehicle, it pays to check the car's history thoroughly. Models sold under the company's used approved scheme are the safest bets, and come with a good level of aftersales protection.
The 2.7-litre diesel is the engine to have, and HSE trim adds a host of standard equipment. Cars fitted with the petrol V8 are cheap, powerful and sound great, but they are very thirsty.
With the later Discovery 4 in its second year, prices for the 3 continue to tumble. The earliest, highest-mileage models are now approaching £10,000. That's a huge amount of car for the money, but the most affordable are typically low-spec S versions, so it's worth paying a bit extra for a later example with fewer miles and more equipment.
Value choice
2000-2009
The earliest Lexus RX400s are real bargains, as they can be picked up from around £4,000. Watch out for imported vehicles, as their specifications differ to those of official UK models. Reliability is assured from Toyota's luxury brand, which means you can buy with confidence.
Nearly new
2007 to date
X5s offer impressive running costs and handling considering their size.
The Categories