Volkswagen Golf GTI MkV
Years built: 2005-2008 Prices: £6,000-£14,000 Our pick: GTI 5dr manual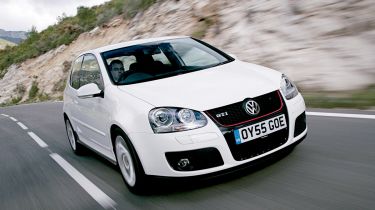 The original hot hatch is our class winner once again. Volkswagen reinvented the Golf GTI when the MkV appeared in 2004, shaking off the flabby, lethargic image of the MkIV. Tidy handling, strong grip, performance and practicality made it an instant winner.
With prices for early models now below £7,000, the GTI is more of a bargain than ever. Solid build quality and good reliability (the Golf MkV finished a commendable 37th in this year's Driver Power survey) mean high-mileage models are nothing to be afraid of, as long as they've been well maintained.
The hot VW is easy to track down, so take your time and pick a good one. Look to the dealer network for late, low-mileage models and independent specialists for anything older – they usually stock top-quality examples. Pirelli and Edition 30 limited-run variants are highly sought after, but we think ordinary models make the most sense.
The Golf was sold with manual and DSG twin-clutch gearboxes, and the latter tend to be slightly more expensive. If you want a self-shifter, the smooth DSG doesn't detract from the fun. The 197bhp 2.0 TFSI engine is as tough as you'd expect from a VW Group unit, and it's relaxed and economical enough to use every day, too. 
Value choice
2006-2009
When it comes to handling, the Renaultsport Clio is the benchmark hot hatch. Few rivals can beat it for entertainment and value. Simple, light and practical, it's now yours from £6,000 – but make sure it has been properly maintained.
Nearly new
2010 to date
One of the most thrilling cars to drive of recent years. The Megane has the pace and poise to put more expensive models to shame. Second-hand examples start at £17,000, so it's not cheap, but buyers won't be disappointed.
The Categories