Mercedes S-Class
Years built: 2006 to date Prices: £16,000-£75,000 Our pick: S350 CDI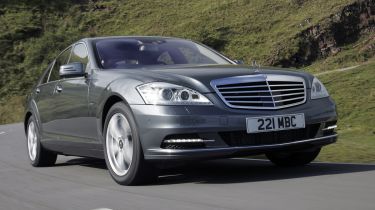 It's a used car hat-trick for the S-Class. Put simply, there's no better top-end second-hand buy. An impeccable reputation for durability is backed up by a hi-tech, high-quality interior.
As with all luxury cars, the Mercedes loses value quickly, which is great news for used buyers. Early examples are now well below £20,000, but don't be tempted to buy a less-than-perfect model on the cheap, as repairs will be costly. Test all the gadgets to ensure everything works correctly.
High mileage isn't an issue as long as the car has been properly serviced, so it's worth considering ex-professional limos and hire cars, as they're usually pampered. However, hi-tech options may not feature on these working models. There's no doubt that the best buys are the diesels. The S320 CDI was replaced by the more efficient S350 CDI in 2009, but they're both refined and relatively economical.
Long-wheelbase variants are desirable but costlier. If money is no object, you could pick up one of the rapid AMG versions.
Driver Power 2011
What you said: "The longer I've owned my S320 CDI, the more I appreciate what a superb all-rounder it is. Given its size and pace, economy is good, and no rival can offer the sheer sense of pride in ownership."
Value choice
VW Phaeton
2003 to date
Understated VW luxury car is virtually invisible in the prestige sector as a new buy, but the savage depreciation this brings means it's great value used. Prices start from only £6,000. Even better news is that the Phaeton is a hugely impressive package in all other respects – so if you don't mind the badge, it's a brilliant choice.
Nearly new
2010 to date
The latest XJ was launched in 2010, yet you can pick up one of the first examples for just under £40,000 – that's about £15,000 less than a brand new one. It's the most dynamic choice in the limo sector, while limited rear headroom confirms its position as a top pick for used car drivers, rather than passengers.
The Categories