Ford Focus
Years built: 2004-2011 Prices: £3,000-£14,000 Our pick: 1.6 TDCi Zetec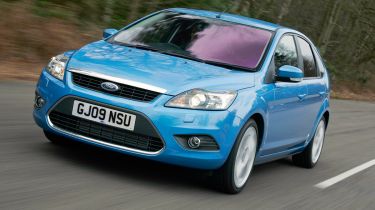 It's hard to look beyond the
Ford Focus
if you're after a used compact family hatchback. The arrival of an all-new version this year has hammered down prices even further, yet the car is as capable as ever. There's also a vast array of choice on the second-hand market because the Focus MkII was such an amazing sales smash new.
That means it's worth shopping around until you find one that ticks all your boxes. As the mid-range Zetec is so affordable, there's little point in looking at entry-level LX versions; just make sure the model you're considering has air-con.
Also, if your budget permits, go for a post-2008 facelifted Focus as they look smarter and should be worth more when the time comes to sell on. The best all-round engine option is the 89bhp 
1.6-litre TDCi diesel. Not only is it economical, it delivers enough performance for most buyers and holds its value well.
However, low-mileage drivers should also check out one of the cheaper petrol alternatives, as the oil-burner does command a premium second-hand. Just steer clear of the 2.0-litre petrol, as it's unnecessarily expensive to buy and run.
Still, whichever version of the Focus you choose, sparkling driving dynamics and impressive practicality are guaranteed.
Value choice
2004 to date
The Octavia has achieved consistent high scores in our annual Driver Power satisfaction survey – and with good reason. Not only is it comfortable and reasonably cheap to run, the Skoda family favourite is reliable and trouble-free. It's also a bargain second-hand.
Nearly new
2007 to date
There's more to the i30 than Hyundai's five-year/100,000-mile warranty. It's brilliant value, good to drive and comes generously equipped. Don't believe us? You don't have to: it won our Driver Power survey in 2010. Praise doesn't come much higher than that.
The Categories