Audi A4 Black Edition
The Audi A4 has become even more desirable thanks to Black Edition styling and kit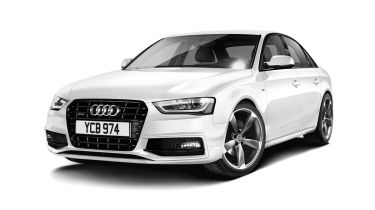 The Audi A4 Black Edition is a well-equipped version of the manufacturer's BMW 3 Series and Mercedes C-Class rival. The Audi A4 was launched in 2007 and was facelifted in early 2012 - the current model has the familiar Audi family face, with a traditional trapezoidal grille and sharp lines.
The Audi A4 Black Edition is based on the S Line model, which gets a sporty bodykit, large alloy wheels and lowered suspension. The S Line model also gets leather seats and other luxury trimmings, and the Black Edition gets those too - with a few aesthetic changes and some extra kit to set it apart.
Like the Audi A5 Black Edition, the A4 version gets large 19-inch '5-arm-rotor' alloy wheels with a matt-titanium finish, plus a black styling package which includes a matt black number plate holder, gloss black fog light surrounds, colour co-ordinated door handles, plus a polished black radiator grille frame.
The Audi A4 Black Edition's interior is traditional Audi, in that it's well thought out and feels very solid. It differentiates itself from the S Line model with a flat-bottomed three-spoke steering wheel, as well as piano black trim and a powerful Bang and Olufsen sound system.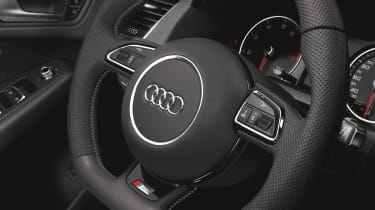 This A4's added visual appeal and extra kit comes at a cost, though, and prices start relatively high at around £30,000 for even the cheapest 1.8-litre TFSI model. For the Audi A4 Avant (estate) Black Edition, this goes up to almost £31,000.
The smallest 1.8-litre 118bhp engine returns 43.5mpg and it emits 151g/km of CO2. The 168bhp unit fitted with a six-speed manual gearbox, the A4 Black Edition returns 49.6mpg and emits 134g/km of CO2. The multitronic automatic gearbox doesn't affect fuel economy too much – it drops slightly to 48.7mpg and CO2 emissions remain the same.
The other petrol engine in the Audi A4 Black Edition line-up is a 2.0-litre TFSI unit which is mated to Audi's quattro all-wheel drive system and the dual-clutch S tronic, gearbox. Emissions slightly worsen but they aren't bad with 42.2mpg and 155g/km of CO2.
It also comes with a range of impressive diesel engines. The smallest is a 2.0-litre 148bhp unit, which is front-wheel drive. The biggest of the 2.0-litre diesels produces 175bhp and is available with either front or all-wheel drive. Both are available with Audi's six-speed manual gearbox, while those who prefer automatics get a choice of either multitronic or S tronic automatic gearboxes.
The Audi A4 Black Edition with the 148bhp 2.0-litre TDI diesel and multitronic box returns 58.9mpg, as well as CO2 emissions of 123g/km. With the manual gearbox, it manages 62.8mpg and emits 119g/km of CO2. The front-wheel drive manual 2.0-litre TDI with 175bhp returns 61.4mpg, plus emissions of 120g/km of CO2. With the automatic multitronic system fitted, it returns 58.9mpg and emits 127g/km.
This A4 Black Edition is also available with a 241bhp 3.0-litre TDI diesel, the most powerful engine in the range. Available only with the dual-clutch transmission, it returns 49.6mpg with 149g/km of CO2.
Like the rest of the Audi A4 range, the Black Edition's has a great chassis, but handling isn't quite up there with its main rival, the BMW 3 Series. However, all-wheel drive quattro models have loads of grip and even the basic front-wheel drive models have excellent body control.
It's worth remembering though, that the Audi A4 Black Edition comes with huge 19-inch alloy wheels and stiffer suspension. While the alloys may look great, when combined with the stiffer springs, they make the ride quite harsh and you'll notice that bumps and potholes send shudders into the cabin. Audi does offer a softer suspension set-up as a no-cost extra option, though.
The Audi A4 finished 80th in our 2014 Driver Power customer satisfaction survey overall. Owners with drivers raised concerns about running costs and ease of driving, but praised the car for build quality and in-car tech. It scored a maximum of five-stars in the Euro NCAP crash tests, too.
Traction and stability control come fitted as standard across the A4 range, plus six airbags, anti-whiplash head restraints and a lane-departure warning system. The A4 Black Edition also gets Audi's Parking Plus parking assistance package as standard.