Audi A6 Saloon, Avant and A7 Sportback get new 40 TDI engine
New mild-hybrid 40 TDI diesel marks the first time the Audi A7 has used a four-cylinder engine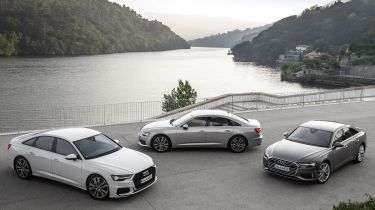 Audi has added a new 40 TDI four-cylinder diesel engine to the A6 Saloon, A6 Avant and A7 Sportback ranges. It's the first time that an engine with fewer than six cylinders has found its way under the bonnet of the A7 in the UK.
The headline figures are a claimed 62.8mpg and 117g/km in an A6 Saloon riding on 18-inch alloy wheels - over 10mpg better than the most closely-matched BMW 520d. The A6 Avant and the A7 are slightly thirstier: both manage 60.1mpg, while the A6 Avant emits 124gkm of CO2 and the A7 122g/km.
Power comes from a 2.0-litre diesel engine producing 201bhp. As with the rest of the A6 and A7 ranges, the unit is mated to a mild hybrid system: a belt alternator starter that's connected to the crankshaft. This boots fuel consumption by recovering up to 5kw of power when coasting or braking and reusing it under acceleration. It allows the 40 TDI-engined models to coast at idle between 34 and 99mph, storing the energy in a lithium ion battery located at the back of the car.
The A6 saloon is able to accelerate to 62mph from rest in 8.1 seconds and on to a top speed of 152mph. The Avant follows two tenths and 3mph behind respectively, while the A7 Sportback matches the A6 Avant's 8.3 second 0-62mph time and the saloon's 152mph top speed.
Each model is available in both Sport and S line trims, with equipment levels matching the larger-engined models in the range.
The A6 and A7 40 TDI models are available to order now, with deliveries due within the next couple of months. The A6 40 TDI saloon costs £38,640 in Sport and £42,000 in S line trim. The Avant costs £1,830 more in Sport trim and £2,100 more in S line. The A7 40 TDI Sport costs £47,140, and the S line is £50,040.
Click here for all the latest on the new Audi A6...