Audi A6 Avant Ultra review
Eco makeover transforms Audi A6 Avant Ultra estate, making it better than ever
The Ultra treatment has completely transformed the A6 range. We rated the saloon highly, and the Audi A6 Avant Ultra estate is now better than ever – it offers bundles more practicality and refinement than any of its rivals. Add in unmatched fuel economy, and this is another five-star offering from the Ultra range.
We've already been impressed by the efficiency-focused Audi A6 Ultra saloon, but how does its more practical and bigger brother fare?
The A6 Avant Ultra will cost you £2,000 more than the Ultra saloon and as you'd suspect offers a whole lot more practicality. And in the chase for class-leading economy, Audi has given the estate the same raft of mechanical upgrades as the saloon.
A new and more potent 2.0-litre turbodiesel engine sees power rise from 175bhp to 187bhp, while the old eight-speed CVT gearbox has been ditched in favour of the responsive seven-speed twin-clutch auto. The changes see economy soar from 55.4mpg to 61.4mpg, with CO2 emissions falling to 119g/km from 135g/km.
There is 20Nm more torque, too – up to 400Nm – and you now get more of it from lower in the rev range. Combine that with the smoother S tronic gearbox and acceleration from 0-62mph now takes 8.5 seconds, down from nine seconds.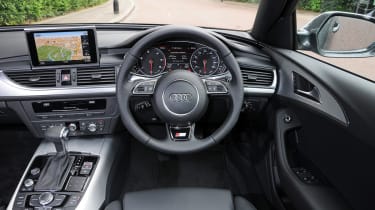 Our test car came in S line spec, which adds slightly firmer suspension and sportier exterior styling. It holds the road surprisingly well for such a large car and does a good job of shaking off the worst potholes and bumps. The steering is beautifully weighted and can be adjusted along with the throttle response and ride by adjusting the drive modes in the Audi Drive Select. You can tailor the A6 Avant to focus more on economy, comfort or performance.
Another surprise is just how muted the four-cylinder diesel engine is. It's well isolated from the cabin, meaning a far more refined drive than you'll get in a Mercedes E300 BlueTEC Hybrid Estate.
And the Audi costs about £5,000 less.What's more, the 565-litre boot pips the BMW 5 Series Touring by five litres. In terms of fuel-efficient premium estate cars, the A6 Avant Ultra is our new class-leader.