Audi e-tron 55 quattro: long-term test review
Final report: petrol or electric? It doesn't matter, as the Audi e-tron is a great car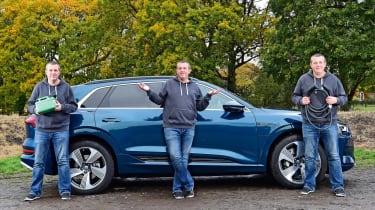 We're going to miss our e-tron. The electric Audi provided a perfect way to commute in London, because it's at its best in heavy traffic, where the refinement, efficiency and ride comfort all shine through.
Mileage: 8,447
Efficiency: 2.4m/kWh
I think it was on a wet and windy Thursday evening that I saw the light and realised the true qualities of the Audi e-tron. The roads were drenched, the traffic was relatively heavy and I was squelching my way along the M3 motorway. The e-tron had the best part of a full battery and I was focused on one thing: getting home.
Suddenly I thought to myself, "I couldn't care less whether this car has a petrol engine, a diesel engine, a hydrogen fuel cell or a 95kWh battery. It's just a good car." And that, ultimately, is what I'll take from six months living with Audi's first pure-electric vehicle.
I appreciate this may seem hard to believe if you're one of the millions of British car buyers currently weighing up the pros and cons of a switch to plug-in hybrids or pure EVs. And perhaps it's at least partly down to the fact that the Audi was my sixth Auto Express fleet car to feature a plug socket.
But once you get past any concerns about charging or range – and at 200-odd miles, we have to admit the Audi isn't stellar on that front – then you end up with one of the company's more convincing offerings. Here, then, are the qualities that make the e-tron stand out, regardless of fuel choice. Firstly, it is by some way one of the most comfortable cars to come out of Audi in a generation. Designed to cope with 2.6 tonnes of vehicle, the suspension could have been desperately rigid. Instead, it is remarkably compliant and supple; even on 21-inch wheels, it rides better than an A6 and certainly most other Audi SUVs.
Secondly, the refinement is off the scale. Of course, the e-tron has that terrific EV trait of being at its most soothing and relaxing just when the surrounding environment is at its most stressful – heavy stop-start traffic, in other words. But even at higher speeds, all that's likely to trouble you is a bit of (distant) tyre rumble. Wind noise is incredibly well suppressed – and once the motor is up to speed, there's no discernible whine from that source either.
And finally, the cabin is a pretty special place, although I'll be honest: I'm still not entirely sold on Audi's haptic-feedback touchscreens, which require you to 'prod' buttons on the display as you would a physical switch. Surely the point of a touchscreen is that you only need to touch it, right?
But there's no doubting the sheer amount of neat touches on board – I loved the 'clip' in the central cubbyhole that held my smartphone in place against the wireless pad charger – and the huge amount of tech, all beautifully stitched into the fascia in a way that has Jaguar I-Pace owners green with envy. Audi makes some top-notch interiors, but even among them, the e-tron's always felt right at the top of its game.
Flaws? I liked the 'wet bin' storage area under the bonnet, but was rather less happy about having to reach down into the driver's footwell to access the opening latch for it.
That's fine when you're doing it once a month to fill up with washer fluid, but it's less appealing when you need to do it every evening to get your cables out and charge the e-tron at home.
We also had one small technical issue during our time with the car: the fancy tail-lights stopped performing their 'sweep' animation. The vehicle itself reported issues with the rear number-plate lamp and then the tail-lights, so the car went back to Audi. The firm's technicians reported that a pin had come loose in the lamp housing. But these are relatively small grumbles over six months and more than 4,000 miles.
One final anecdote: as I plugged the Audi in at Warwick services a couple of weeks before its return, I must have fielded half a dozen questions from curious passers-by. "How long will that take to charge?" they asked. "How much will it cost you here? And how does that compare with what it costs you to charge at home?"
More than ever, it seems, people are doing the maths, and working out how an electric vehicle can fit into their lifestyle. When you get beyond those factors, you could do far worse than end up with something like an Audi e-tron, because it's a good EV, and a really good car.
Audi e-tron: third report
Fast charging our Audi e-tron while we have a coffee leaves us full of beans
Mileage: 6,973
Efficiency: 2.5mi/kWh
There comes a point in every spell of ownership where you like to think you've managed to exploit your car's potential to the full. And that's precisely how I now feel about our Audi e-tron.
If you're expecting to hear of me barrelling down a country lane in 2.6 tonnes of SUV, or maxing Audi's electric model on a stretch of autobahn or one of Auto Express's drag race videos, you're going to be disappointed. And yet the picture above is clear evidence of me using every scrap of the e-tron's potential.
• Audi e-tron vs Jaguar I-Pace
That's because while we've shown you photos of the e-tron charging before, it has generally been operating at a maximum of 50kW, or considerably less when it's parked outside my house. But the unit on board the vehicle itself is capable of up to 150kW.
This kind of charger is thin on the ground in the UK, but we recently visited the new BP Chargemaster installation at Cranford, near Heathrow. While this is the first of its type, there are already new rapid chargers springing up elsewhere, such as at a BP station in Hammersmith in London. For the moment, the Cranford site is free to use while BP Chargemaster rolls out the units into its network infrastructure.
The e-tron's battery was on about 40 per cent when I plugged it in, but one cup of coffee later it was above 90 per cent, having delivered just shy of 50kWh in a whisker over 23 minutes. That's an average of 138kW by my reckoning, and when you consider the system slows down as it nears the Audi's capacity, it must have been running at maximum charge speed for a decent amount of time.
BP Chargemaster's Polar network is definitely one of the best in the country; far more cohesive than the Electric Highway that you find at motorway service stations. But even Polar isn't infallible; the day before our visit to Cranford, I popped into a Morrisons in Swindon to give the Audi a quick slug of charge at a unit that's listed on the Polar app. But when I got there it turned out that the supermarket chain had ripped out the original charging point and replaced it with one from an alternative supplier.
The Audi hasn't been so well behaved away from the charging point recently, though. I've had a few warnings about the rear lights; first, the number plate lamp, then the brake lights. And the fancy animated LED strip across the hatchback definitely seems to have gone on the blink; literally, in fact, because it flickers from time to time. The car is going to back to Audi shortly for a diagnosis.
I've also recently changed my domestic electricity to a smart meter, and signed up for Octopus Go, the first of surely several EV-targeted tariffs that offers a cheaper rate through the night. The installation itself took a couple of hours and, in theory, it means we'll never have to give a meter reading again. But it could also save me a pretty penny; if I tell the e-tron to only start charging in the small hours, I'll be paying not 13p per kWh but just five pence. Result.
Audi e-tron: second report
Plugging our Audi e-tron into the electric car network is proving to be a game of chance
Mileage: 2,672
Efficiency: 2.1mi/kWh
Pick a card, any card. Just as long as it gets you charging. That's a scenario that is going to become increasingly common for me over the next few months in the Audi e-tron – and I've only myself to blame.
You may recall that in the first report on the car, I pointed out that while the UK's motorway EV charging network (the Electric Highway) is famously fallible, there are several very decent alternatives that can often be found only a few minutes from the main routes anyway.
However, I found myself wanting to top up on the way north during a recent trip to Coventry – and realised that I hadn't done the required prep work to sign up for these alternatives. Sure enough, and not for the first time, the Highway's Ecotricity charging point at Warwick services let me down.
In a fit of rage, I signed up on the spot to other charging schemes: BP Chargemaster's Polar network, as well as Chargepoint and PodPoint. At the time it seemed to make sense – although the up-front monthly fees on Polar that will kick in after 90 days are a tad concerning – and I was able to give the e-tron a 30-minute slug of electricity on my way home anyway. In the days that followed, though, various envelopes turned up in the post, containing brightly coloured cards. And it soon became clear that accessing these schemes requires you to juggle these bits of plastic and/or smartphone apps.
The most straightforward is PodPoint, because you can sign up on the spot, give your direct debit details and then start charging.
But I've also discovered that Chargepoint claims that its own app can work with "all other major providers" – which makes me wonder why the firm bothered sending out a keyfob-sized card. Either way, the whole process adds a layer of complexity to something that, in my view, doesn't need to be made any more complicated.
I'm aiming to test all the schemes before the car leaves us in late autumn, but you can see why EV sceptics say it's not as simple as visiting any filling station. Why not allow payment by anyone, via contactless card?
Well, that's something the Government is working on as I write, and BP Chargemaster is already rolling out such a system for its Polar chargers. Initiatives like these can only be a good thing, because they help to demystify the challenges of EV ownership, making these cars attractive to more buyers.
Away from the charging stations, life with the e-tron is refined and comfortable – more so than in any conventionally powered Audi that I can remember, in fact. It's happiest at 70mph, wafting along motorways in near-silence, and even the optional 21-inch wheels have plenty of sidewall, giving a squishy ride to accompany the air suspension.
I recently signed up for the MyAudi scheme to allow smartphone access to the vehicle functions – not least because it allows on-the-hoof and scheduled charging, as well as air-con pre-conditioning, to be controlled from the palm of your hand.
It was a trickier process than I'd envisaged, though; first I had to set up an online account with Audi, then I had to link that to my car through the depths of the e-tron's MMI infotainment system. I thought the car's VIN number would be enough, but another 10-digit code had to be typed in at one point as well. I'd love to hear if other customers have found it equally fiddly – and perhaps more importantly, whether their dealerships have eased their pain by sorting it for them.
The e-tron isn't cheap to buy, and I've noticed that it doesn't quite bring the same low running costs that I enjoyed with my previous EV test car, the Hyundai Kona Electric. Perhaps Audi customers won't care so much about this, but the bigger e-tron's greater energy consumption, and the task of filling a 95kWh battery instead of a 64kWh one, have had a noticeable impact on my monthly electricity bill.
As such, I'm planning to switch in a few weeks to a smart meter and, ultimately, Octopus Energy's EV-focused Go tariff, which promises cut-price charging bills during the wee small hours. It's just another part of the electric-car adventure, but I'll let you know how I get on.
Audi e-tron: first report
Comfortable pure-electric Audi e-tron SUV makes a fine initial impression as it joins our fleet
Mileage: 200
Efficiency: 2.1mi/kWh
So you're tempted by the idea of an electric car, but still worried that when you do need to charge up mid-journey, the infrastructure will let you down? Don't be. That's our first lesson with the Audi e-tron, the latest addition to the Auto Express fleet and a car that has all of the comfort and tech you'd want for long trips.
Without doubt, the Electric Highway network, which is the only one available in Britain's motorway service stops, is fickle at best. But as our header image proves, there's an ever-increasing range of alternatives within a stone's throw of the major routes.
To blood our e-tron, we went to the latest BP Chargemaster hub at Milton Keynes Coachway – two minutes off the M1 and equipped with eight fast-charging bays that can be accessed through the Polar scheme.
The e-tron is Audi's rival for various Teslas plus Jaguar's I-Pace and the forthcoming Mercedes EQC. It's a Q5-sized SUV that runs on pure electricity, has five seats and a boot that can cope with a family holiday.
Underneath, though, the e-tron sits on the same MLB Evo platform as everything from the Q5 itself to the likes of the A6 saloon. And that means that, in the kindest terms, it risks being a teeny bit of a bodge, because it's really an EV made out of a platform that wasn't originally conceived for a vehicle without a combustion engine.
The end result is a car that has a 95kWh battery but also one that weighs (take a deep breath) 2,490kg. As a result, the official range of the e-tron is just under 250 miles – on the modest side of impressive.
Still, after the first few weeks with the car, I can report that this figure is slightly out of kilter with the e-tron's strengths because it is, simply, one of the most comfortable and refined Audis that I've ever experienced.
Its twin electric motors are only really audible around town, yet even then they're hardly intrusive. And once you're up to speed, the way it isolates you from what's going on around the car is so effective that it can be a tad unnerving at first, though that feeling soon passes, I can assure you. The ride is decidedly un-Audi-like in its sophistication, too.
Our e-tron doesn't have the ultra-trick digital side mirrors – there are curious 'blanks' in the door panels where their screens would be – but it does have the second AC charging port on the passenger side, giving us a little flexibility when it comes to parking up beside any public bays.
This, in turn, brings us back to our visit to BP Chargemaster's flagship site – and the fact that, during the couple of hours we spent there, we saw only one other EV using the Milton Keynes facility. That was a BMW i3 that turned up for about 20 minutes' worth of juice (giving the owner enough time to go and grab a coffee at the nearby coachpark café) before heading off again.
It won't be the only charging base on site for long, either; workmen next door were preparing to install a hub for IONITY, the fast-charging network that has big funding from car makers as it spreads across Europe.
As Tom Callow from BP Chargemaster explained during our visit, the firm is gearing up for another huge expansion of its capacity – and many of the points will be faster again than those at Milton Keynes, further reducing the time each vehicle needs to occupy a bay.
"The worries about public charging availability are largely unfounded," he told us. "We know from looking at the usage patterns that there's already huge capacity in the network, and that's growing by the day, even as EV sales increase."
My home charger will still account for the vast majority of the e-tron's fill-ups – as it would with almost every EV customer, I'd wager. But over the next six months, I can still see me taking advantage of the car's long-legged, relaxed nature. And calling on the UK's widening charging infrastructure will be a part of that experience, too.
*Insurance quote from AA (0800 107 0680) for a 42-year-old in Banbury, Oxon, with three points.