Audi RS4 vs C63 AMG
We test the new 444bhp Audi RS4 Avant against its key rival from Mercedes: the C63 AMG Estate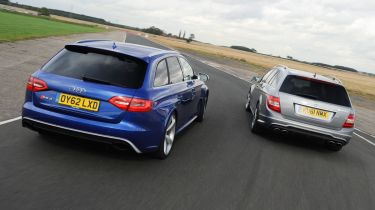 Ever since the wild RS2 was launched two decades ago, fast estates have played a big part in Audi's success. So it's no surprise that the new RS4 is sold exclusively in Avant guise.
This latest in a long line of fast quattro wagons is powered by the same 444bhp 4.2-litre V8 engine as the RS5 coupe and R8 supercar. And there's no missing the RS4 Avant, with its subtle yet aggressive styling and trademark detailing.
But the new Audi faces a stern rival, in the shape of the Mercedes C63 AMG Estate. This car's mighty 6.2-litre V8 produces 451bhp and a thumping 600Nm of torque.
Strictly speaking, a top-spec diesel A4 Avant or C-Class Estate will have all the performance you could need, but these cars aren't about being sensible – they're guilty pleasures that offer mind-boggling power, plus luxury, practicality and huge desirability. There's something uniquely appealing about these super estates, and this is sure to be a closely fought battle for supremacy.
Verdict
These cars successfully combine sensational performance with day-to-day estate practicality. Picking a winner isn't easy, as they are so closely matched in nearly every measurable area.
Both are hugely desirable, powered by dramatic V8 engines, great to drive and beautifully built. But the four-wheel-drive RS4 is marked out by its near-unbreakable traction, taut body control and massive reserves of grip. In contrast, in anything other than bone dry conditions, the rear-wheel-drive Mercedes doesn't inspire anywhere near as much confidence.
The C63 has more natural steering feel and feedback, while the thunderous V8 soundtrack is a delight. On the right road it's hugely engaging, but the Audi's engine sounds even better and the S tronic box is crisper and more responsive on downshifts.
The RS4 also looks a fraction more distinctive, has a roomier and more modern cabin, plus it's cheaper to buy and should hold on to its price better – although neither of these cars will be bought by drivers concerned about their motoring costs.
Understated yet aggressive, fast yet practical, focused yet comfortable, the new RS4 will be all the performance car many people could ever want. So by the very tightest of margins, the hard-hitting Audi takes victory in this test.