Aston Martin DBS, Casino Royale (2006)/Quantum Of Solace (2008)
BOND FACT: The sensational Casino Royale crash was filmed at Millbrook Proving Ground in Bedfordshire.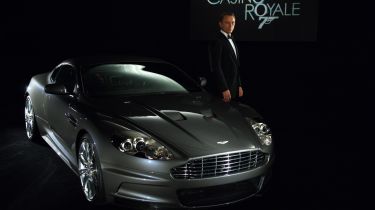 For the 2006 relaunch of the franchise, Bond ditched all of the gadgets and far-fetched plotlines for something far grittier and more realistic. But Aston Martin remained as the car manufacturer of choice.
New Bond Daniel Craig took to the wheel of a shiny DBS in Casino Royale – in fact, it was so new that the DBS didn't go on sale until the year after the film was released.
Like George Lazenby's DBS in 1969, Craig's car was devoid of gadgets. The stunts remained, however, with a DBS sacrificed for one of the biggest single-car crashes ever in a film. Bond, in pursuit of the kidnapped Vesper Lynd (Eva Green), comes across his love interest lying in the road, and has to take evasive action. The ensuing crash destroys the DBS, but it did land in the Guinness Book Of Records for completing seven consecutive barrel rolls in the process.
Another DBS appeared in the opening sequence of Quantum Of Solace, but it didn't fare much better than its predecessor – losing its doors and having its windscreen shattered during a spectacular chase.
• Aston Martin DB5• Lotus Esprit• Sunbeam Alpine• Ford Mustang Mach 1• BMW Z8• Aston Martin Vanquish• Citroen 2CV• What the villains drove