The top ten best cars for MPG and running costs
Driver Power asked UK new car buyers about their cars' MPG and running costs. These are the top ten highest rated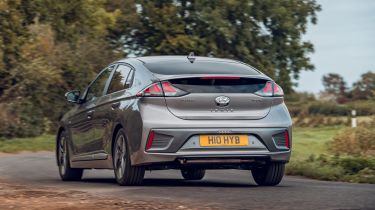 Covering: Fuel economy, servicing costs, other running costs (road tax, insurance, etc)
Winner: Hyundai Ioniq
Score: 91.83%
Regardless of how competent a car is, if it costs a fortune to run, that will present a serious issue for most people. Insurance and road tax alone can be expensive, and then there's the price of petrol and diesel (or electricity), and servicing to consider.
The Hyundai Ioniq – which is available as a conventional hybrid, a plug-in hybrid or a full EV – won the mpg and running costs category this year, with a first-place score for fuel economy alone indicating the hybrid and PHEV versions are as fuel-sipping as you would expect.
Owners of the fully electric version seem to be very pleased with its efficiency, while Ioniq owners in general say the Hyundai isn't too pricey to have serviced at the main dealer. Also impressive, based on your scores, is how affordable insurance and road tax are. The second of those is discounted for hybrid models, and free for electric examples under the current regime.
An interesting, but perhaps unsurprising trend that emerged this year is that most cars in the top 10 in this category have partially or fully electrified drivetrains.
Your view
"My electric Hyundai Ioniq is the most efficient car I've ever owned. I'm really satisfied with how little I spend running it, particularly as there's no road tax to pay."
MPG and running costs top 10
Model

Class

Overall Position

Overall Score

Category Score

Hyundai Ioniq

Compact Family Car

27

88.19%

91.83%

Tesla Model 3

Compact Executive Car

18

89.43%

91.26%

Hyundai Kona

Small SUV

1

92.35%

88.79%

Kia Niro

Small SUV

15

89.92%

88.13%

Toyota Yaris

Supermini

21

89.32%

87.79%

Toyota RAV4

Mid-Size SUV

11

90.30%

87.76%

Kia Rio

Supermini

2

92.16%

87.63%

Toyota C-HR

Mid-Size SUV

4

91.07%

87.52%

Vauxhall Corsa

Supermini

28

88.17%

87.48%

Volkswagen T-Roc

Mid-Size SUV

24

88.89%

87.35%
Click here to tell us about your car in the Driver Power survey...