Don't buy that SUV just yet! The new BMW 5 Series Touring is almost here
BMW teases the next-generation 5 Series estate ahead of its 2024 launch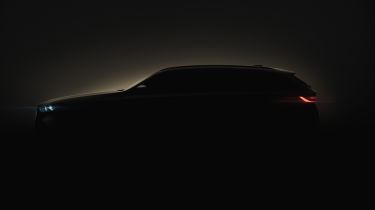 With the new 5 Series due to hit showrooms on 21 October, BMW has begun officially teasing the more practical Touring model with this estate version set for its debut in spring 2024. 
The 5 Series Touring is one of our favourite estates and the new model will have quite the task replacing the excellent G31 generation. The outgoing car bested the likes of the Volvo V90, Mercedes E-Class Estate and Jaguar XF Sportbrake in several of our executive estate group tests over the past few years. 
BMW's latest teaser image doesn't reveal too much about the new 5 Series Touring but we can see that the angle from the roof down the rear of the car is less steep than on its predecessor for a sportier side profile. The 5 Series Touring traditionally gets a bespoke set of rear lights different to those on the saloon and here again we can see a fresh rear light signature compared to the new 5 Series saloon's one. The front end will probably be identical to the saloon's, however. 
BMW says the new Touring will share the same set of powertrains as the saloon. That means there'll be a selection of 48-volt mild hybrid, plug-in hybrid and even a fully-electric variant in the shape of the i5 Touring. The EV will eventually have competition from the upcoming Audi A6 e-tron Avant, which we expect to launch in 2024 as well. 
The Touring's model range should mirror the saloon's, so a 520i sDrive will kick off the line up, costing from around £50,000. It'll come with a 205bhp 2.0-litre four-cylinder turbocharged petrol engine, complete with 48-volt mild-hybrid assistance integrated into its eight-speed automatic gearbox. The 7.5-second 0-62mph time will be slightly slower due to the extra weight of the estate body. For the first time ever there won't be a diesel 5 Series Touring. We can expect more powerful petrol offerings further down the line.
This generation of 5 Series also marks a return of the M5 Touring, which we last saw in E61 form in the mid-2000s with a naturally-aspirated V10. The new car will most likely utilise the 644bhp plug-in hybrid 4.4-litre V8 from the new XM. We've already caught the M5 Touring testing on the Nurburgring so a 2024 launch for the super estate seems likely.
Check out the latest BMW news and reviews here...